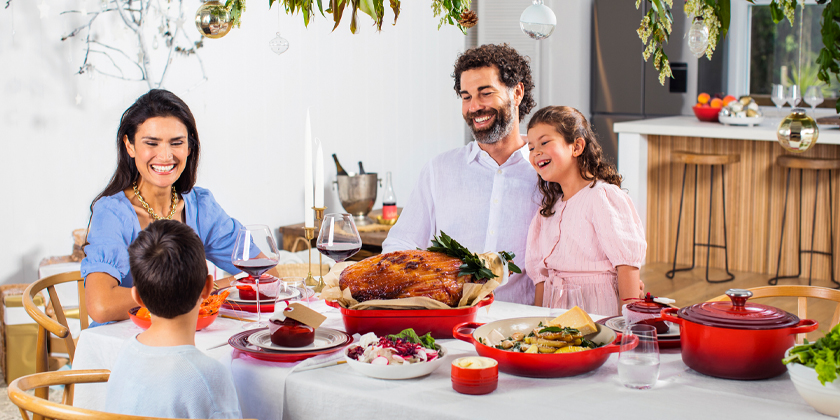 Everything from Le Creuset kettles through to statement stoneware.
It all started with Le Creuset enamel cast iron cookware almost 100 years ago … since then, Le Creuset pots, pans and kitchenware have been creating style and setting the mood in homes and restaurants throughout the world.
Where to buy Le Creuset? You can't go past Chef's Complements!
Here at Chef's Complements, you can choose from the original Le Creuset enamelled cast iron pieces, signature 3-ply stainless steel, toughened non-stick and PHA hard anodised cookware, depending on your preference. We even carry their silicone tools for cooking, baking and heat protection, as well as salt and pepper mills, kettles and kitchen textiles available in all their wonderful signature colours.
Deserving of a special mention is the stunning stoneware range. Including casseroles, loaf and pie dishes, terrines, serving ware, mugs, infuser teapots and milk jugs, you can surround yourself with vibrant colours which coordinate with the enamelled cast iron cookware. So go on and take the chance to make your everyday kitchenware not only functional but also beautiful … for years to come. Made from specialist clays, Le Creuset stoneware is chip-/stain-resistant and each piece comes with a 10-year warranty.
Le Creuset Kettle Range – All the Bells and Whistles
Hugely popular, Le Creuset kettles are crafted from premium carbon steel and finished with chip-resistant porcelain enamel. We have a range of styles available, whether you're after something traditional or something that's more of an eye-catcher such as the Kone. All these kettles are quick-boiling and have locking handles, harmonic whistles and heat-resistant phenolic knobs.
How to Care for Your Le Creuset Enamel Cast Iron Pieces – A Few Tips
Le Creuset enamelled cast iron ranges come with 2 different cooking surfaces (inside): black and light enamelling. While they can be used on all heat sources, high heats should only be used for boiling water for veges/pasta or for reducing stocks/sauces.
Le Creuset enamel surfaces (except for black enamel on grills or products with a non-stick inner coating) are not suitable for dry cooking, so always make sure that liquid, oil, fat or butter completely covers the base before heating begins.
Don't fill at hot pan with cold water or plunge into cold water. The thermal shock may damage the enamel, as will metallic pads or harsh abrasive cleaning agents.
Viewing 1–36 of 263 results
Le Creuset 3-ply Stainless Steel 3 Piece Saucepan Set

$

900.00

Le Creuset 3-ply Stainless Steel Deep Casserole 24cm

$

390.00

Le Creuset 3-ply Stainless Steel Multi Steamer with Glass Lid (2 Sizes)

$

139.00 –

$

190.00

Le Creuset 3-ply Stainless Steel Non-Stick Sauté Pan 20cm

30% OFF


Le Creuset 3-ply Stainless Steel Rectangular Roaster 35cm

$

439.00

Le Creuset 3-ply Stainless Steel Shallow Casserole 24cm

$

360.00

Le Creuset 3-ply Stainless Steel Square Roaster 26cm

$

390.00

Le Creuset 6 Egg Tray (2 Colours)

$

30.00

Le Creuset Botanique Collection Cappuccino 200ml Mug Set of 4

$

120.00

Le Creuset Botanique Collection Egg Cup Set of 4

$

60.00

Le Creuset Botanique Collection Espresso Mugs 100ml Set of 4

$

80.00

Le Creuset Botanique Collection Mini Casserole 250ml Set of 4

$

185.00

Le Creuset Botanique Collection Mini Ramekins 100ml Set of 4

$

45.00

Le Creuset Botanique Collection Mug 350ml Set of 4

$

130.00

Le Creuset Butter Dish 17x12x9cm (6 Colours)

$

75.00

Le Creuset Calm Collection Mini Casserole 250ml Set of 4

$

179.00

Le Creuset Camembert Baker 18cm / 600ml Cerise

$

90.00

Le Creuset Casserole Heart Shaped Cerise 20cm

$

489.00

Le Creuset Cast Iron Balti Dish 24cm (3 Colours)

$

379.00

Le Creuset Cast Iron Bistro Grill 32cm Marseille Blue

$

380.00

Le Creuset Cast Iron Casserole Pumpkin Shaped 22cm

$

689.00

Le Creuset Cast Iron Cocotte Every 18cm / 2L (5 Colours)

$

520.00 –

$

539.00

Le Creuset Cast Iron Crepe Pan 27cm Rateau & Spatula (2 Colours)

$

329.00

Le Creuset Cast Iron Crepe Pan 27cm Rateau & Spatula Indigo

$

329.00

Le Creuset Cast Iron Crepe Pan 27cm Rateau & Spatula White

$

329.00

Le Creuset Cast Iron Giant Reversible Grill 40cm

$

539.00

Le Creuset Cast Iron Panini Press 23cm

$

250.00

Le Creuset Cast Iron Sauté Pan with Wood Handle 28cm Black

21% OFF


Le Creuset Cast Iron Tagine 27cm Cerise

$

600.00

Le Creuset Cast Iron Tarte Tatin Cerise 25cm

$

320.00

Le Creuset Chef's Apron (2 Colours)

$

85.00

Le Creuset Classic Salt/Pepper Mill 20cm Bamboo

$

85.00

Le Creuset Classic Salt/Pepper Mill 20cm Caribbean Blue

$

85.00

Le Creuset Classic Salt/Pepper Mill 20cm Cerise

$

85.00

Le Creuset Classic Salt/Pepper Mill 20cm Coastal Blue

$

85.00

Le Creuset Classic Salt/Pepper Mill 20cm Ink

$

85.00