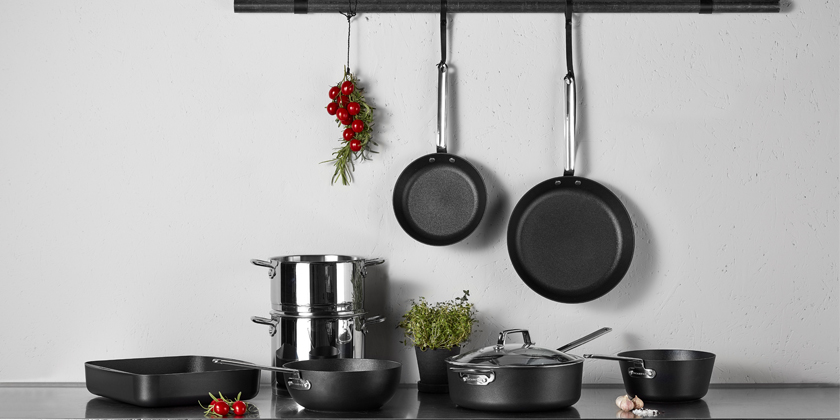 For the Love of Good Food
Scanpan's legacy of innovation, unequalled performance and quality originated in 1956 when a Danish entrepreneur invented the 'squeeze-cast' method for the manufacture of their cookware. The legacy continues today due to an ongoing dedication to traditional craftsmanship supported by modern manufacturing techniques, sustainable production and creating premium kitchenware with ground-breaking advances, including Stratanium.
Every pan produced at the purpose-built Scanpan facility in Denmark passes through human hands eight times during its creation to ensure they satisfy their quality requirements and their customer's culinary needs. This craftsmanship and attention to detail are complemented by technologically advanced manufacturing processes, resulting in high-performance cookware which delivers even, energy-efficient conduction of the heat that is guaranteed not to warp.
Scanpan were early adopters of the use of recycled materials in the industry. The cast bodies of their non-stick cookware are manufactured from 100% recycled aluminium products – requiring only  10% of the energy and creating 95% less waste as opposed to delivering aluminium through industrial mining.
Scanpan was the first to introduce a truly PFOA free non-stick finish which remains PFOA free throughout the entire manufacturing process.
Viewing 1–12 of 212 results
Scanpan Axis Covered Dutch Oven 24cm / 5.2L

$

379.00

Scanpan Axis Covered Sauté Pan (3 Sizes)

$

269.00 –

$

399.00

Scanpan Axis Covered Stock Pot 26cm / 7.2L

$

449.00

Scanpan Axis Fry Pan 20cm

$

179.00

Scanpan Axis Fry Pan 26cm

$

259.00

Scanpan Axis Saucepan 16cm / 1.8L

25% OFF


Scanpan Axis Saucepan 18cm / 2.5L

27% OFF


Scanpan Axis Saucepan 20cm / 3.5L

26% OFF


Scanpan Axis Universal Multi Steamer with Lid

29% OFF


Scanpan Bamboo Chopping Board with Groove 50x30x4cm

$

99.99

Scanpan Carving Dish 44x30cm

$

129.00

Scanpan Classic 10 Piece Knife Block Set

$

529.00