Emile Henry cookware has been produced in Burgundy, France, for more than 170 years. To this day, this family-owned-and-operated company produce their beautiful Emile Henry ceramics from non-treated, high-fired Burgundy clay, with each piece signed by the worker who made it! In a world of chemicals and highly processed foods, Emile Henry ceramics naturally enhance flavours and aromas: from the base material through to the glaze, everything in their production is 100% natural, a fact which is mirrored by their earthy-inspired colour palette.
Emile Henry's Bread Loaf Baker allows you to bake all kinds of home-made bread with a crispy crust and soft inside. The refractory ceramic and domed lid create the right level of humidity during cooking to get a perfect loaf. The holes in the base and lid help the dough to rise and create a dry, crispy crust whilst the ridges on the bottom prevent the dough from sticking.
Made from Emile Henry's special formula HR® (High Resistance) ceramic, it diffuses heat evenly to bring out the most subtle flavours of your ingredients. Resistant and sturdy, it can also be used under the grill or for reheating or defrosting in the microwave and is oven-safe up to 270°C (520°F). The special clay from Burgundy heats evenly for gentle, uniform baking and browning and will keep the contents hot for a long time after being removed from the oven. The durable glaze resists scratches and will not chip, crack or craze over time nor will it absorb odours or flavours. Use in oven, microwave and freezer.
Available in Charcoal
HR Ceramic® (High Resistance), for use in the oven up to 270°C (520°F).
Product Dimensions: H12.5cm x W15cm x L24cm
Capacity: 2L
Comes Gift Boxed
Care Instructions:
Allow to cool down completely before cleaning. Do not pour cold water onto a hot dish.
Dishwasher safe
For stubborn residue, soak in hot water and white vinegar before placing in the dishwasher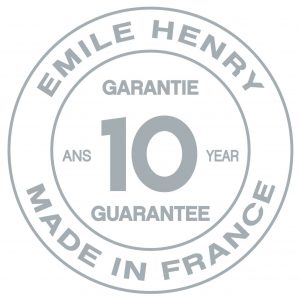 Read up more about Emile Henry, their history, how these pieces are made and how to use and look after your products in our 'All About Emile Henry' blog.