Emile Henry cookware has been produced in Burgundy, France, for more than 170 years. To this day, this family-owned-and-operated company produce their beautiful Emile Henry ceramics from non-treated, high-fired Burgundy clay, with each piece signed by the worker who made it! In a world of chemicals and highly processed foods, Emile Henry ceramics naturally enhance flavours and aromas: from the base material through to the glaze, everything in their production is 100% natural, a fact which is mirrored by their earthy-inspired colour palette.
Ideal for pizzas, bread and general grilling. Made of exceptionally durable Burgundian clay, yet is much lighter than other pizza stones. Finished with Emile Henry's proprietary lead-free black Flame glaze, which is chip resistant and safe for cutting on. Withstands extremely high heat, distributing the temperature quickly and evenly. Designed specifically to produce crispy, well-baked crusts, like those from a pizza oven. Integral handles make the stone easy to lift. Doubles as a cheese board or trivet.  Handmade in France since 1850, each piece is unique and signed by the craftsman that created it.
Extremely resistant to heat, the Emile Henry BBQ ceramic can reach 500°C/930°F
It heats as much as cast iron but diffuses the heat more gently so the ingredients do not burn as quickly
Designed for use in ovens both conventional and convection, and can also be used under the grill.
Use on BBQs; gas, charcoal and natural wood.
Note: For best results heat gently from cold before adding the pizza base
Care Instructions:
Allow to cool down completely before cleaning. Do not pour cold water onto a hot dish.
Do not use on stovetop elements
Microwavable; oven, BBQ, freezer and dishwasher safe.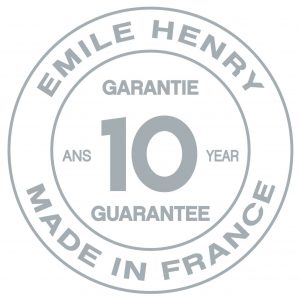 Read up more about Emile Henry, their history, how these pieces are made and how to use and look after your products in our 'All About Emile Henry' blog.