Kai Shun Sora Chefs Knife 15cm
Out of stock
Want to be notified when this product is back in stock?
This shorter length is particularly lightweight and highly manoeuvrable
Secured Payment
|
Free shipping over $100 (excludes bulky products)
View On Mobile Open your camera and Scan the QR code to view on your mobile.
Shorter than a traditional chefs knife, this all-purpose knife is suitable for chopping, shredding, cutting, slicing and cubing all meat, fish and vegetables. If you've never tried a 15cm chefs knife, you might be surprised at how much you will love it. This shorter length is particularly lightweight and highly manoeuvrable. And like all chefs knives, it uses an all-purpose blade ideal for a wide variety of cutting tasks—slicing, dicing, and chopping small to medium-sized fruits, vegetables, and other foods. The Shun Sora 15cm Chefs Knife has an Asian-style blade that is light and agile. With its curved belly, this chefs knife can also be gently "rocked" through fresh herbs or spices to produce a very fine mince.
In Japanese, Sora means "sky". With Sora's proprietary Composite Blade Technology, this beautiful series offers sky-high value by bringing together a VG10 three-layer san mai cutting edge with a polished Japanese 420J stainless steel upper. This technology puts high-performance material exactly where it's needed most, on the cutting edge. The two blade sections are laser cut, then fit together like pieces of a jigsaw puzzle. Braze welding permanently joins them. The attractive wavy pattern at the joint is based on traditional Japanese sword hamon lines. While Sora's blade shapes and handle design are traditional Japanese, the textured PP/TPE polymer blend handle material provides a contemporary look, secure grip and balance, and is easy to maintain.
Features:
Cutting Angle: Hand-sharpened 16°cutting angle double-bevel blade
Blade Material: VG10 is clad with one layer of stainless steel on each side to create the san mai edge and provide stain resistance. Mirror-polished Japanese 420J blade upper
Hardness: 60 HRC
Handle Material: Traditional handle design in easy-care textured PP/TPE blend
Blade Design: Featuring a modern 'hamon' design and Shun's signature emblem
Handcrafted in Japan.
10-Year Limited Warranty against manufacturing defects.
Presented in a stylish gift box.
Read through our Shun Blog to find out more information about this top-end brand and the differences between their ranges. See all Chef's Complements Shun Knives here.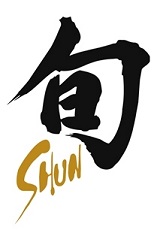 Only logged in customers who have purchased this product may write a review.