KitchenAid Stand Mixer Metallic Chrome
The KitchenAid Artisan stand mixer is every cooks dream. With the KitchenAid Stand Mixer KSM177, the sky truly is the limit when it comes to food preparation. This top-of-the-line cake mixer whips, mixes, kneads and simply looks stunning in your kitchen.
With over 18 additional attachments available your "cake mixer" can be turned into an amazing multi-functional appliance. It can be a meat mincer, a vegetable sheeter, a sifter, a food processor, an ice cream maker to name a few. A true culinary centre for everything you want to make.
Do you love shiny metallics? Then the gleaming Metallic Chrome KSM177 cake mixer will fit perfectly into your kitchen decor and match other brushed appliances. The Artisan® metallic Chromel Stand Mixer from KitchenAid® delivers high shine and polished performance and is complemented by an elegant newly designed dual-tone finish on the 4.8L stainless steel bowl. Not only that, this model comes with the 2.8L bowl for mixing smaller quantities. Plus, it doesn't stop there – you will also enjoy receiving a flex-edge beater and a 1-piece pouring shield with this model. It has all of the bells & whistles.
Other benefits of this stand mixer include:
Quick, complete mixing: the beater spirals to 67 different touch-points within the bowl
Highest beater-to-bowl coverage in the industry
Easy to clean and use
Direct drive: the KSM177 is quiet, reliable, energy-efficient & long-lasting
Durability through full metal construction
Big 4.8L capacity to prepare large quantities
2.8L bowl for smaller capacities
Included and ready-to-go with your KitchenAid stand mixer KSM177:
Flat beater, dough hook, wire whisk, flex edge beater, 4.8L stainless bowl, 2.8L stainless bowl and a pouring shield.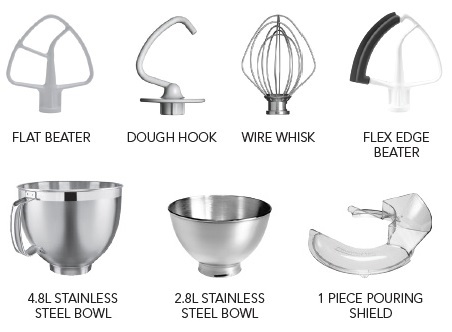 KITCHENAID ARTISAN METALLIC CHROME STAND MIXER KSM177 – FEATURES:
Premium Metallic chrome finish
Metal control knobs
Hub drive for a wide range of optional attachments
Tilt-up head
10 variable speeds
Planetary mixing action like no other
Energy-efficient 300-Watt motor
Transmission: direct drive
Maximum kneading capacity: 1.3 kg total weight of ingredients
Minimum mixing capacity: 1 egg white
Maximum mixing capacity 12 egg whites
5 years parts and labour warranty against manufacturing faults for home use
Proudly hand made in the USA for over 100 years