With its uniquely reflective lustre, Le Creuset Stainless Steel captures the colour of everything around it—bright vegetables, vibrant pots, happy faces—and showcases it for years to come. More than a mirror, Le Creuset's stainless steel reflects the passion of cooks everywhere.
The flared sides and the rounded bottom of the Le Creuset Chef's Pan are well suited for keeping ingredients together to produce complex flavours.
Features:
A full aluminium core heats quickly and evenly and is protected by the rolled, sealed and polished rim.
The magnetic external layer is induction-compatible and infused with titanium to resist discolouration.
The inside layer is made of surgical-grade stainless steel for a safe and stable cooking surface.
Premium steel blend resists pitting and scorching to maintain its lustre over time.
Dishwasher-safe for easy cleaning, and oven-safe to 260°C.
Lifetime Warranty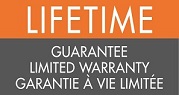 For more information on how to use and care for your Le Creuset products visit our Le Creuset Guide for a more in-depth understanding. Find out how these pieces are made, what makes them unique and why you should invest in Le Creuset!
See what other Le Creuset products we offer.