Le Creuset's best-ever non-stick: tested, trusted and guaranteed for life, Now 4x stronger. (It's been independently laboratory tested for metal utensil abrasion resistance.)
The Le Creuset Toughened Non-Stick collection embraces all that they have learned from making premium cookware since 1925. They have used their expertise and passion for delicious food to create the very best non-stick range and an unsurpassed cooking experience. Le Creuset uses the toughest, most hardwearing 3-layer non-stick coating available inside and outside every pan. It will never flake or peel during use and food releases flawlessly allowing you to cook with little to no fat or oil for healthier results and it is a dream to clean. It is so tough you can use metal utensils and it is completely PFOA-free. Le Creuset's special 6-layered body construction is both tough and heat-efficient whilst being light enough for everyday use. The hard anodised, forged aluminium body is stable and strong preventing the pan from warping or distorting when heated. It cooks to perfection with heat spreading gently and evenly throughout the entire pan – not just across the base – for perfect, even browning and cooking.
Suitable for use on all types of hob, including induction. The pans are also oven safe to 260˚C (Glass Lids safe to 220˚C *available separately*) and dishwasher safe. Their exclusively designed, professional-style handles are comfortable to hold and the long side handles stay cool when cooking on the hob. All handles are attached with solid stainless steel rivets which stay secure and won't become loose. The larger pans have generously-sized helper handles making them even easier to lift when full. With a lifetime guarantee (10-Year on Grills, Roasters and the Paella Pan) to give you peace of mind for a lifetime of outstanding performance.
Sizzled to perfection. Love crêpes and pancakes? Reach for this perfectly designed Toughened Non-Stick pan. Coated inside with our best-ever non-stick, it browns your batter evenly and releases your creations easily for next-level results. It makes for healthier treats too – with a surface this smooth, there's no need to add much butter or oil. And even better, cleaning's simple!
Features:
Food releases with ease, the pans are easy to clean, and you can use metal utensils too
When heated, the pans will stay in shape and will not warp or distort
The cast handles are comfortable to hold and attached with stainless steel rivets for a superior, secure fitting
The tough, PFOA-free non-stick surface can handle all types of frying – even without oil or fat, resulting in healthier eating
Oven safe to 260°C and dishwasher safe
Covered by a lifetime limited warranty
Dimensions:
24cm – Length: 46.2cm Width: 24.57cm Height: 7.7cm
28cm – Length: 50.2cm Width: 28.57cm Height: 7.7cm Depth: 1.5cm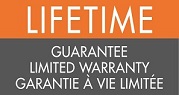 For more information on how to use and care for your Le Creuset products visit our Le Creuset Guide for a more in-depth understanding. Find out how these pieces are made, what makes them unique and why you should invest in Le Creuset!
See what other Le Creuset products we offer.