Prepare delicious 100% natural fruit or vegetable juices.
The Magimix Le Duo range offers a truly comprehensive solution for making fruit and vegetable juices.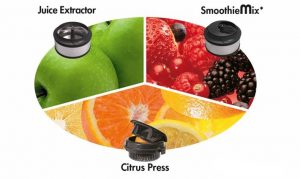 To savour 5 portions of fruit and vegetables a day, Magimix invented a single machine for making homemade juices. The Le Duo range features parts which can turn your juicer into a very versatile kitchen product to assist you in eating your 5 plus-a-day.
Citrus press
For juicing oranges, lemons, grapefruit…2 cones for large and small citrus fruits.
Juice Extractor
For extracting a pure, clear juice from fruit and vegetables. Visibly high-quality juice clear and smooth with no froth. 1 apple = 1 glass. Stainless Steel large capacity Juice Extractor (700g)
SmoothieMix For extracting from soft or cooked fruits and vegetables (strawberries, peppers, tomatoes…): nectars, smoothies or coulis
Includes Recipe Book with more than 40 amazing, healthy recipes to help you get inspired.
More vitamins, juice, antioxidants
– More Vitamins:
More vitamin C in home-made orange juice (Source: ANSES versus bottled juice) with the SmoothieMix attachment*: +66% of Vitamin C vs Traditional juicer (Spectralays measurement laboratory)
– More Juice:
1 apple = 1 glass of juice. With the SmoothieMix attachment*: 86% of juice yield(Invivo laboratory)
– More Antioxidants:
With the SmoothieMix attachment:+81% of antioxidants vs Slowjuicer (Invivo laboratory)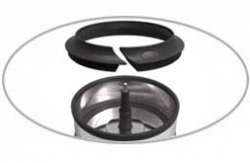 New basket with removable rim for easy cleaning.  All parts can be removed and are dishwasher safe. Spatula included for easy cleaning.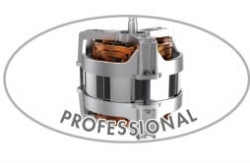 All juicers are manufactured in France and come equipped with a powerful, ultra-quiet commercial-grade induction motor that bears a 30-year guarantee. All parts and accessories come with a 3-year guarantee. Heavy-duty stainless steel juice extractor basket for optimal juice extraction.