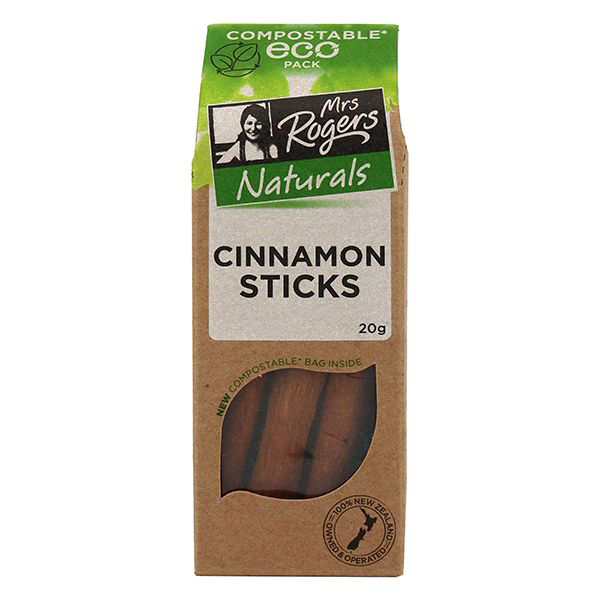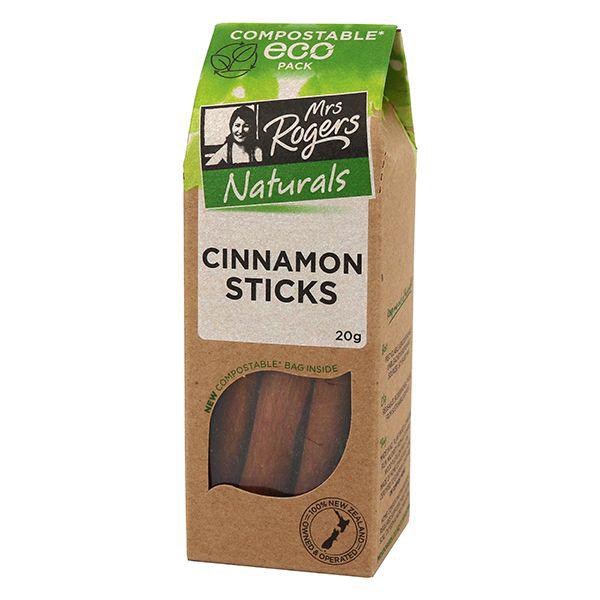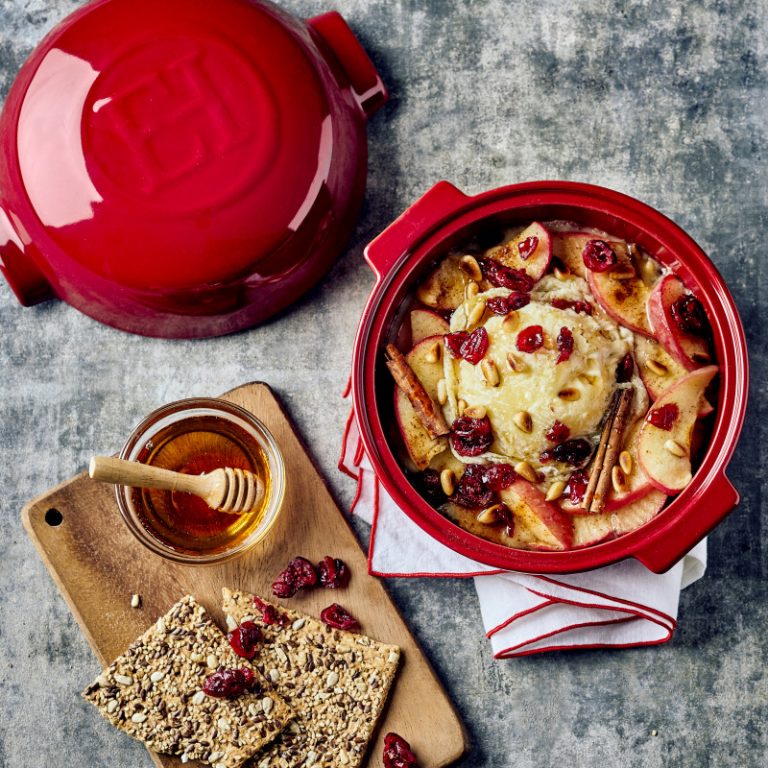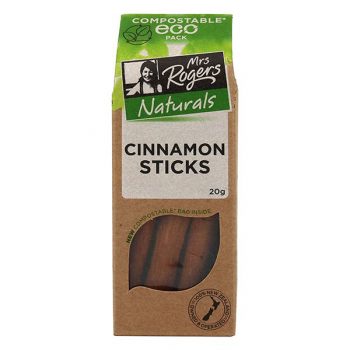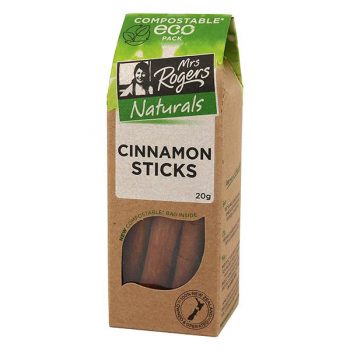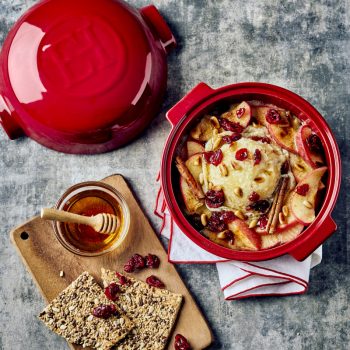 Mrs Rogers Naturals Cinnamon Sticks 20g
Sweet, spicy flavour & woody fragrance and is used in a variety of sweet and savoury dishes
Secured Payment
|
Free shipping over $100 (excludes bulky products)
View On Mobile Open your camera and Scan the QR code to view on your mobile.
Cinnamon sticks, or 'quills', are made from long pieces of bark that are rolled and dried. One of the most common kitchen spices, Cinnamon has a sweet, spicy flavour & woody fragrance and is used in a variety of sweet and savoury dishes
Suggested Uses
The cinnamon quills can be used whole in curries and stews, where the long cooking draws out the flavour, then remove before serving.
Cinnamon is great for pickling and in preserved goods.
Cinnamon sticks are perfect grated on top of cappuccinos and other hot drinks and are essential in spiced Mulled Wine.
Add to a poaching liquid for fruit, especially poached pears.
In savoury dishes, cinnamon adds an exotic Middle Eastern flavour that is especially suited to lamb and chicken – try it in your casseroles or stews!
Add to curries and savoury rice dishes.
The Variety
Cinnamon is the dried bark of the trees in the evergreen family of the genus Cinnamomum. Both the common varieties; Cinnamon & Cassia are from different species of the same genus. Cinnamon is defined as the dried bark of the genus Cinnamomum and it is common usage to call them both "cinnamon", with a majority of the market being of cassia origin.
For Your Appreciation
Cinnamon sticks, or 'quills', are made from long pieces of bark that are rolled and dried. Mrs Rogers has chosen their cinnamon for its punchy flavour that is demanded in kiwi baking and cooking. It has a more complex flavour than inferior Chinese Cassia. Ceylon Cinnamon has a milder, more floral flavour that adds subtle depth to traditional Indian curries. Cinnamon was highly prized in ancient times and has had documented use throughout history.
Health Benefits
Can also help cure urinary tract infections, and some evidence suggests it may prevent stomach ulcers. Cassia is higher in coumarin but is perfectly safe as a baking cooking ingredient where it is appreciated for it's spicy full flavour. Cinnamon is an antiseptic and has been used medicinally for thousands of years to soothe stomach irritation, fight tooth decay and gum disease Cinnamon is known to be high in anti-oxidants, just one teaspoon of ground cinnamon is said to have as many antioxidants as 1/2 cup of blueberries! Cinnamon is rich in natural polyphenols, compounds that can stabilize blood sugar and help ward off cravings for sweets! Cinnamon tea is warming and is said to increase blood flow, which increases circulation and helps boost metabolism, as well as aid in the reduction of inflammation. If you are using cinnamon for health benefits alone, I recommend sourcing Ceylon Cinnamon due to its low content of the compound coumarin. In addition to stabilizing blood sugar levels, cinnamon may also improve insulin function, which could lower the risk of diabetes. It has anti-viral, anti-bacterial, and anti-fungal properties so it may help fight winter colds.
Keep it out of landfill!
Box: Recyclable & Biodegradable. Unbleached & responsibly sourced. Soy-based inks.
Clip: Reusable. Biodegradable wood from sustainable sources
Bag: Made in NZ. Plant based laminated film. Majority from sustainable wood pulp & GM-free corn. Made of home compostable films, certified to European standards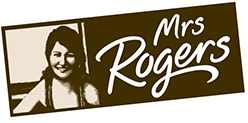 100% New Zealand Owned & Operated
Only logged in customers who have purchased this product may write a review.