We love to cook, but peeling? – not so much. Peeling is best done with the minimum of fuss. We want a fast every day peeler that works on anything. Big Peeler is an over-sized peeler with a specially developed blade designed for tackling tough vegetables. The blade is 50% larger than standard Y shape peelers and will peel something like a butternut squash in under a minute. On everyday carrots and potatoes, it is very fast indeed, needing very little pressure and far fewer strokes. It will even peel a Pineapple. Designed by the influential designer Damian Evans.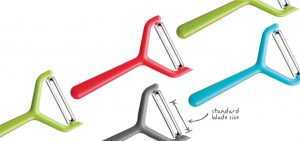 Features:
Perfect for larger tougher skinned vegetables like Squash
Very fast everyday peeler
Comfort rubber grip strips
Highly developed larger blade with custom grind angle
Angle the blade to adjust the thickness of peel as required
Dishwasher Safe
Food Safe
BPA Free
Available in Red or Green. These come assorted, if a certain colour is required please let us know and we will try our best to meet your needs.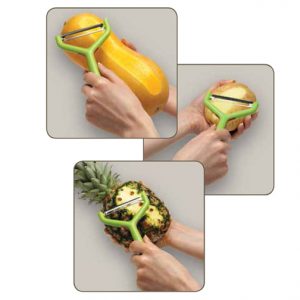 Warning: very sharp blade – always peel away from hands