Part of Tala's 1960's retro range.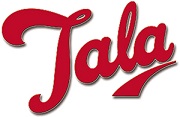 The 1960's Flour Sifter by Tala ensures clumpy flour is turned into a light, even consistency
Easy to use trigger action with an ergonomically-designed handle is comfortable to use
Also ideal for sifting flour onto the worktop when working with pastries and doughs
To use, simply press the trigger handle repeatedly and the spokes will work against the fine meshed base to agitate and aerate the flour
Enables one-handed action, perfect for when you're on the go in the kitchen
Sifting – Perfect for recipes when a lighter and fluffier texture is required – such as feather-light cakes and souffles
Mixing – The sifter is an effective way to mix dry baking ingredients thoroughly – such as baking powder/soda, salt or cocoa
Distributing – Ensures an even sprinkling of powdered sugar or cocoa on finished baked goods
Use and Care:
Hand wash only if required
Take care if washing the Flour Sifter as any traces of dampness can turn flour to paste. As an alternative, you can turn the sifter upside down and shake out any loose particles.