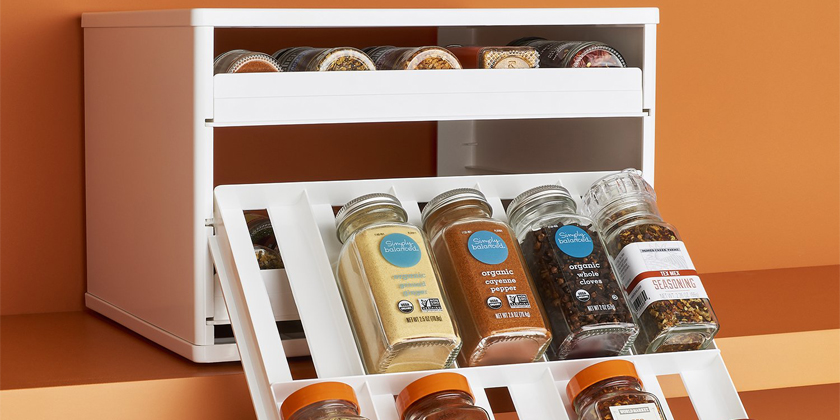 YouCopia is a feeling of triumph over small stuff. Because no one likes the hassle of a messy home.
Founded in 2009, YouCopia has helped millions of people discover that it feels good to open a cabinet or drawer and find things where you want them. Our goal is to design products that deliver "woo hoo" moments without a ton of effort.
Whether adjustable, expandable or customizable, we create organizers that can store a variety of items in different spaces. Using tools and leaving holes is annoying, so our products never require installation. Having an organized home should be achievable for everyone (even the disorganized) – it feels good.
2006

A cabinet spice bottle organizer called the SpiceStack® is born. Okay, it's designed.

2007

The first SpiceStacks are manufactured and sold through speciality stores

2008

The SpiceStack makes its debut in an infomercial on national TV. The crowd goes wild.

2009

YouCopia is founded by Lauren Greenwood and her inventor-of-a-father Mark Greenwood. They envision an entire line of organization products that will help you cope with the little clutter at home.

2010

The SpiceStack is tested at a large national retailer and is an immediate hit with customers! More SpiceStacks sizes are designed.

2011

YouCopia's product line expands to include organizers for single-serve coffee pods.

2012

A star is born with the TeaStand® and SpiceLiner®. YouCopia products can be found in more retail locations and online.

2013

YouCopia undergoes a rebranding and develops it's signature "dot-dash" pattern that appears on many products.

2014

The Crazy Susan® Turntable is launched and begins YouCopia's foray into cabinet organization for items other than spices and beverages.

2015

The first StoreMore® racks are introduced to the market and receive overwhelmingly positive feedback for their unique adjustability and non-slip feet.

2016

YouCopia's product line expands further with the Shelf Risers, SpiceSteps® and the WrapStand®.

2017

YouCopia becomes a WBNEC-Certified Women's Business Enterprise and establishes its new headquarters in the Ravenswood corridor of Chicago.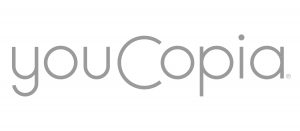 Viewing 1–12 of 13 results
YouCopia BakeStack® Organiser

$

69.99

Store and organise your baking tools and accessories.

YouCopia CafeStack® 60 Nespresso® Capsule Organiser

$

69.99

Organises 60 Nespresso OriginalLine capsules

YouCopia Chef's Edition SpiceStack® 30 Bottle Organiser

$

99.99

Stop Looking, Keep Cooking. 30 spice bottles labelled and right at your finger tips.

YouCopia Classic SpiceStack® 24 Bottle Organiser (2 Colours)

$

79.99

Classic SpiceStack organises 24 bottles – round & square – in new universal drawers inside the kitchen cabinet.

YouCopia Crazy Susan® 27.5cm Turntable with Backstop

$

44.99

Organises oils, vinegars, spices and more in your pantry cleverly designed with a slide out shelf for easy access.

YouCopia Crazy Susan® 40cm Turntable

$

49.99

Organise all of your bottles on four shelves that spin, slide and rotate so you can easily find and reach everything in your cabinet.

YouCopia MiniStack® 12 Bottle Spice Organiser

$

49.99

The MiniStack® is the ultimate cabinet organiser for spices, medicine, vitamins and more!

YouCopia Original SpiceStack® 18 Bottle Organiser (2 Colours)

$

69.99

Original SpiceStack organises 18 bottles – round & square – in new universal drawers inside the kitchen cabinet. Spices have never looked better.

YouCopia SpiceLiner® (2 Sizes)

$

19.99 –

$

34.99

SpiceLiner is an affordable solution that allows you to build a customised spice drawer.

YouCopia SpiceSteps™ 4-Tier Organiser

$

39.99

Step Up Your Spices. The SpiceSteps 4-tier organiser helps you see all of your spices at a glance.

YouCopia StoreMore Adjustable Bakeware Rack

$

39.99

The StoreMore Bakeware Rack maximizes cabinet or pantry space by vertically organizing your bakeware, cookie sheets, cutting boards and more.

YouCopia StoreMore Adjustable Lid Holder

$

39.99

It promises to save space and reduce clutter by storing lids vertically and it delivers!