SWISS DIAMOND IS AMAZING
Swiss Diamond is dedicated to empowering the home chef by manufacturing the highest quality nonstick cookware in the world from our factory in Sierre, Switzerland. We believe cooking at home should be convenient and healthy – so we use cast aluminium and reinforce our nonstick coating with real diamond crystals.
Swiss Diamond engineers have developed a method of combining real diamond crystals with a high quality non-stick composite for superior cookware performance. For this unique technology, the Swiss Diamond coating received a Gold Medal at the 1999 International Exhibition of Inventors. Combined with a technologically advanced production process, a commitment to green manufacturing and a unique approach to induction cookware, this innovation puts Swiss Diamond at the top of the industry. The most crucial advantage of Swiss Diamond cookware is our premium non-stick coating. Made of the highest quality nonstick components and reinforced with real diamond crystals, it has been shown in lab tests to outperform and outlast the competition
The ergonomically-designed handles are well balanced and temperature safe up to 260°C, allowing you to finish cooking in the oven. Sturdy tempered glass lids feature an adjustable steam vent for advanced moisture control and are also oven-safe.
SIMPLY THE BEST
Gold Medal Winner – International Exhibition of Inventions

Best Nonstick Cookware – leading U.S. consumer reporting organization

The Rolls-Royce of Nonstick Fry Pans – Wall Street Journal

Recommended for vegan and vegetarian cooking – American Vegetarian Association

Recommended – Cooking Club of America
Swiss Diamond® XD NONSTICK – The new standard in top quality nonstick
Swiss Diamond XD is our latest, most advanced diamond-reinforced nonstick cookware line to date. XD is produced using a new coating formulation developed in our lab in Switzerland and an advanced production process pioneered in our manufacturing facility. Swiss Diamond cookware uses a revolutionary nonstick coating made with diamonds. The coating of each Swiss Diamond pan contains up to 200,000 real diamond crystals for a long-lasting non-stick surface. The result is a significantly tougher cooking surface with even better food release properties.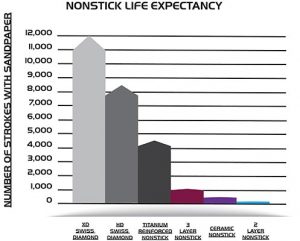 The Swiss Diamond nonstick coating has been named the best nonstick cookware for the past three years in a row by the leading U.S. consumer organization and is also ranked #1 in both Australia and New Zealand. Swiss Diamond® cookware is made of pressure-cast aluminium for uniform heat distribution with no hot spots. It is guaranteed not to warp. Each piece has a perfectly flat base for use on any ceramic, gas or electric cooktop and the XD series is induction capable also. 
WHY USE CAST ALUMINIUM
Swiss Diamond cookware, with the exception of the HD Pro Stainless Steel line, is made purely of cast aluminium with a high-quality nonstick coating. Aluminium is ideal for making cookware because it is lightweight, corrosion-resistant, and has excellent thermal conductivity. There are two main methods of creating the aluminium bodies used in cookware today:
Stamped or Spun Aluminum – While quick and economical, these methods allow the pan to warp over time. Stamped aluminium cookware is produced when a large sheet of aluminium is forcefully pressed against cookware-shaped form. Spun aluminium cookware starts with the same thin sheet of aluminium, but instead of being pressed, it is stretched and shaped around a cookware-shaped form using a spinning lathe. Both methods transform a flat sheet of aluminium into the shape of a piece of cookware, but since the metal's "natural" or original shape was a flat sheet, the metal can warp when repeatedly heated and cooled.
Cast Aluminum – Swiss Diamond cookware is made using cast aluminium. The metal is melted to a liquid state and then poured into cookware-shaped molds. Once the metal is cured and cooled, it is removed from the mold and has the shape of the form. This is a more expensive and time-consuming method, but also produces a higher-quality product. Swiss Diamond products will never warp, even if taken straight off the stove and placed under cold running water. The cast aluminium also provides even heat distribution with no hot spots for a lifetime of superior performance.
HIGH-TECH PRODUCTION PROCESS 
Swiss Diamond products are manufactured exclusively in Sierre, Switzerland. The production process for a Swiss Diamond product is quite complex:
Aluminium is melted on-site and is then cast into suitable forms. This is the first and most crucial advantage of Swiss diamond products: other cookware is often spun or stamped into shape, allowing the metal to warp under high heat. The pressure-cast aluminium process used for Swiss Diamond cookware prevents warping for the lifetime of the product – even if it is taken directly off the stove and placed under cold running water. Cast aluminium also distributes heat evenly, preventing hot spots.

The molten aluminium is pressurized to remove bubbles and ensure proper filling of the molds. Each Swiss Diamond product is covered with a

Limited Lifetime Warranty

covering manufacturing defects.

To prepare the aluminium body for the coating and to ensure improved adhesion, the interior is sandblasted.

After sandblasting, a diamond surface layer is plasma-deposited on the interior of the cookware. This prevents contact of the aluminium with food even if the nonstick coating is damaged.

The actual coating process utilizes a specially developed robot to give each Swiss Diamond product three solid layers of nonstick coating. The patented coating, reinforced with real diamond crystals, provides a lifetime of superior performance. The coating is manufactured completely without

PFOA

for safety.

The pan's bottom is accurately trimmed. Combined with the cast aluminium construction that prevents warping, the perfectly flat base ensures that your cookware will never spin or become unstable on the cooktop.

In a final step, the handles are attached. Our unique method uses threaded handles on exterior bolsters rather than rivets, to prevent food build-up inside the pan that leads to bacterial growth.

The finished Swiss Diamond cookware is now ready to be shipped to chefs and cooks around the world!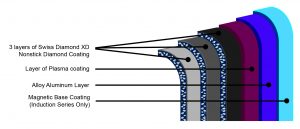 SUSTAINABLE MANUFACTURING

Swiss Diamond is committed to green manufacturing practices. The factory is powered by 100% hydroelectric power from the Swiss Alps, and the production process is free of PFOA from start to finish. An undrinkable water source is used to supply the cooling system and coating lines, and water used in the coating lines is recycled.
All products are made with recyclable aluminium; irregular items and scrap leftovers from the factory are recycled within the production process. Furnaces are powered by natural gas, and the factory runs 24 hours a day, 7 days a week to ensure that furnaces are fully utilized.
The production of our nonstick coating is also environmentally friendly. We do not use a pre-fabricated base. Instead, we manufacture the coating material in-house, importing each component to our Swiss factory and mixing it ourselves. This reduces transportation emissions, packaging and associated environmental impact needed to supply us with the finished goods. Coating materials leftovers are disposed of in a special 3rd party facility to separate the components and minimize environmental impact.
HIGH-TECH INDUCTION COOKWARE
Swiss Diamond uses a unique process to make their cookware suitable for induction stoves. Instead of embedding a magnetic core, which makes disruptive buzzing sounds when the cookware is heated, they infuse a ferromagnetic base onto the cookware – guaranteeing it will never buzz.
SUITABLE FOR HEALTHY COOKING, VEGETARIANS & VEGANS
Swiss Diamond cookware is designed for cooking without oil. This is an easy way to trim fat and calories from every meal. For best results when cooking without oil, we suggest preheating the pan over medium heat for two to three minutes before adding food. For additional health benefits, all Swiss Diamond handles are tightly threaded to exterior metal bolsters cast as one piece with the body of the cookware. This unique method eliminates interior rivets, preventing food build-up that can lead to bacterial growth. Swiss Diamond is even recommended by the American Vegetarian Association for the preparation of vegan and vegetarian meals. Adding extra vegetables and fruits to your weekly meal plan is easy with Swiss Diamond!
According to the AVA, Swiss Diamond cookware is particularly suited for the preparation of vegetarian and vegan dishes due to its high-quality nonstick coating and the overall good workmanship of the products. "The Swiss Diamond fry pan performed beyond our team's expectations," explains AVA Executive Director Len Torine, "There was virtually no sticking of any food particles during our tests and we were impressed that not even melded cheese would stick to the pan."
WARRANTY
The Swiss Diamond limited lifetime warranty guarantees to the original purchaser of the cookware that it is free of manufacturing defects. These defects may become apparent at any time during the lifetime of the product; however, the defect must have been caused during the manufacturing process. Here at Swiss Diamond, we take manufacturing defects very seriously, and will happily replace your pan at any time if a defect becomes apparent. The warranty expressly does not cover normal wear and tear, use, or misuse.