Keep your eyes open
When buying your first knife, most people are amazed at the number of different options. Different blade shapes, lengths, sizes, grinds and handles can make the choice a little tricky. In this blog, we would like to show you which knife is suitable for which task and what you should pay attention to when purchasing. Let's go!
Blade Length
Short blades – Big impact
Knives with a blade length of up to 14cm are all suitable for making particularly fine cuts and for cutting food into precise cubes, strips, and so on. Here is a selection of WÜSTHOF's specialist short blade knives:
Serrated Sausage Knife – Your brunch companion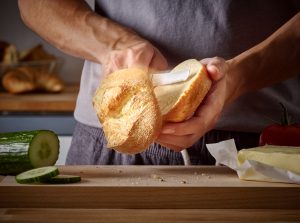 The perfect companion for preparing your packed lunch or at brunch: thanks to its fine serrated edge, the Serrated Sausage Knife not only cuts cleanly through rolls without tearing, it is also suitable for vegetables (such as firm tomatoes), fruit, dry sausage, salami and ham, but also for use on cheese or for bread rolls and baguettes. This makes it an integral part of sandwich preparation and of the brunch table setting, ideally found alongside our Cheese Knife.
Paring Knife – The little all-rounder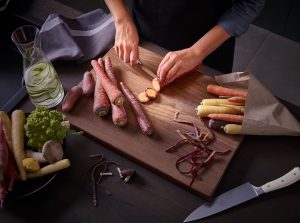 Ideal for chopping, cleaning and decorating fruit and vegetables. The Paring Knife makes its mark as a universal kitchen tool with its short blade and handy shape. Clean carrots, peel apples, chop shallots – it can do many things and do many things well. Together with the Cook's Knife and the Bread Knife, the paring/vegetable knife is an essential piece of equipment that no cook should be without.
Cook's Knife – The big all-rounder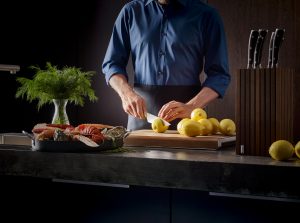 The Cook's Knife with a short blade is suited to many of the same tasks that the Vegetable Knife can perform, but thanks to its curved blade it is also suitable for mincing – not possible with the Vegetable Knife. It is absolutely the most important knife in the kitchen and is part of any cook's basic equipment – whether with a short blade or a long one. The all-rounder in the kitchen: the most important piece of basic equipment for every hobby and professional chef, the Cook's Knife is suitable for most tasks in the kitchen, for the widest variety of cutting and gripping techniques, it makes food prep a pleasure.
Santoku – All-rounder with dimples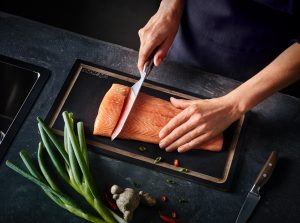 The term "Santoku" comes from Japanese and means "three virtues" (san = three, toku = virtues). This name fits perfectly because the Santoku allows you to perfectly cut the triad of ingredients: fish, meat and vegetables. Thanks to the dimples, sticky or soft foods do not stick to the blade – perfect for wafer-thin cucumber slices, for example.
Tomato Knife – Cut don't crush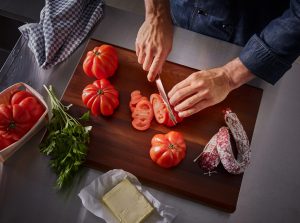 The knife with a forked tip for tomatoes, cheese and fruit. The finely serrated edge cuts smoothly through firm top layers such as rinds, crusts or skin and is also suitable for cheese or many kinds of fruit. The forked tip is designed to pick up the small slices of the ingredients with ease.
Beak Knife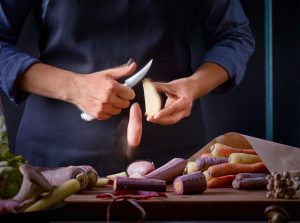 Small, handy and equipped with a short sabre-shaped curved blade, you use this pruning knife – also called a tourne or bird's beak knife – for peeling and cleaning fruit and vegetables. This special blade shape allows round foods such as apples or mangoes to be peeled easily. In addition, the plain edge of the beak knife allows you to make very fine cuts.
Long blades – Specialists
It is obvious that long blades are particularly well-suited to larger ingredients, but these knives excel in different areas too, as you will find out
Super Slicer: the cut-anything knife
There are some ingredients that demand a truly exceptional knife: the tough skin of a pineapple, for example, or the stalk of an artichoke. And the Super Slicer can easily handle both: the convex, outwardly shaped serrations of the blade ensure powerful and clean cuts – even with very fibrous, tough foods.
Salmon knife: sharp and flexible
Granted, there isn't always a suitable knife for every possible situation. But, if you have a whole salmon in front of you or at least half of one, you'll love this blade. The Salmon knife is very long, sharp and flexible, so you don't tear the fine flesh of the fish and you can cut wafer-thin slices.
Ham knife: also suitable as a carving knife
Of course, WÜSTHOF has the right speciality knife in their range when it comes to smaller hams. Thanks to its long, narrow blade, the Ham knife is also suitable as a carving knife, as you can use it to carve up roasts, hams or poultry – whether raw or cooked – very efficiently.
Bread knife with double-serration: cuts twice as well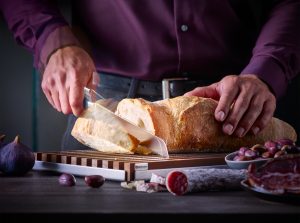 Whether hard crust or soft crumb, the double-serrated pattern edge allows exceptionally smooth, clean and precise cuts and prevents the blade from slipping off at an angle. In addition, with this Bread knife you need to use much less force when slicing than with conventional blades from this category.
Confectioner's Knife – not just for cakes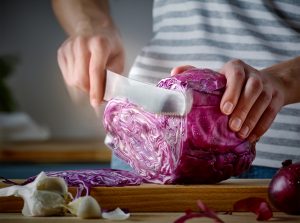 Cakes, pies, crisp puff pastry, large loaves of bread or firm desserts – with this Baker's knife you can cut, slice and serve them all. And not just sweet treats: the ingenious concave waves can handle even the toughest foods, so with this kitchen jack-of-all-trades you can even effectively prep things like large cabbages or heads of lettuce.
Ham Knife with dimples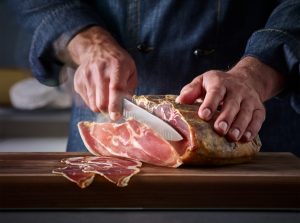 The dimples in this Ham knife create small air cushions between the steel and the ingredient, which prevents greasy or sticky foods from sticking to the blade. Fruit and vegetables, but of course also ham, can be cut into wafer-thin slices with this knife.
Which knife for which task?

Cook's Knives
The all-rounder in the kitchen. The Cook's Knife is suitable for most tasks in the kitchen, for the widest variety of cutting and gripping techniques, it makes food prep a pleasure.
Asian Knives
In Europe the chef's knife, in Asia the Santoku. Mincing, chopping and preparing – no problem. Now indispensable in kitchens all around the world
Bread Knives
Belongs in every kitchen. Bread and other hard-skinned foods are no problem with the serrated edge. Even with hard crusts, the knife produces a clean cut
Vegetable Knives
Small, versatile knife with a slim blade and plain edge. It is very suitable for cutting, chopping, cleaning and decorating fruit and vegetables
Meat Knives
With its shape and sharpness designed to cut very fine slices. Excellent for meat, fruit and vegetables and as well as for carving roasts.
Filleting Knives
With its flexible blade, this knife is suitable for the wafer-thin filleting of fish, meat and fruit. Precise cuts, filleting from the skin – the special talents of this knife
Brunch Knives
Cuts cleanly through rolls without tearing thanks to the serrated edge. It is suitable for vegetables, fruit or dry sausage. Your companion for the most important meal of the day.
Steak Knives
The extra-sharp blade not only does a good beef steak justice without tearing the fibres. A must on the table when meat is on the menu
Speciality Knives
We have the right cutting solutions for special challenges. Cheese, tomatoes, tortes and even bones are no problem.
Knife sets
Of course, we have also put together sets for you. From basic equipment to fully stocked knife blocks. Let us inspire you!
As well as our distinct series, we also offer a large selection of different types of blade: plain, dimpled or serrated edge (choose from convex, concave or micro-serrated), straight, curved, narrow, extra wide or flexible – your choice goes on and on.
Half Bolster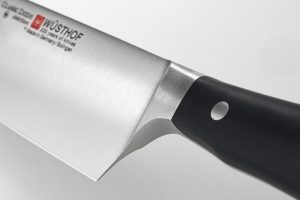 The knife weighs less thanks to the slim bolster design. This allows energy-saving work. In addition, the design allows the whole blade to be used and resharpened.
Full Bolster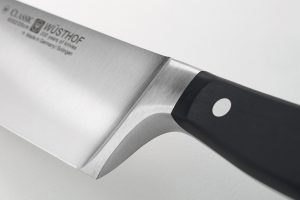 The full bolster reliably protects the fingers in everyday cooking and the balance makes agile and precision work easier.
Pruning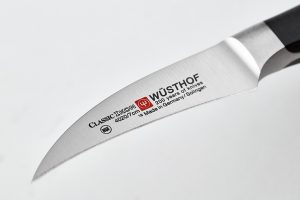 A handy knife with a short, curved cutting edge is especially well suited for peeling and cleaning round fruits and vegetables. Valuable vitamins remain intact thanks to the precision blade minimising food waste
Tomato Knife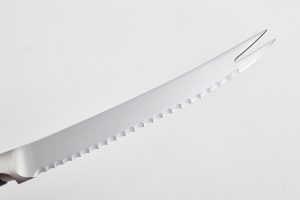 The finely serrated edge of the tomato knife cuts smoothly through the solid tomato skin, the forked tip picks up the slices. The knife is also well-suited to cheese and fruits.
Hollow Edge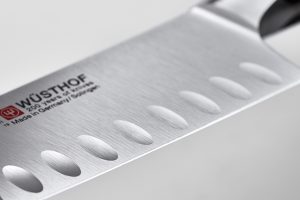 Small air pockets are created at the depressions of the blade through the hollow edge. The positive effect of this is that thin or soft food items do not stick to the blade.
In addition to the appropriate blade length and the type of knife, the shape of the handle plays an extremely important role. The handle must fit your hand so that you can guide the knife safely and correctly. If you like the feel of wood, the Crafter series might be suitable for you. Perhaps a power grip handle like the Performer series? And for those who prefer a timeless look, we have our Classic series. As well as liking the look of the knife, the feel of the handle in your hand is also important. We at Chef's Complements can assist you in trying out knives and letting you get a real feel of them in your hand.