Many people are surprised to discover that, after over 200 years, our company remains in family hands.
Equally unusual is the fact that throughout this time we have demonstrated our loyalty to the City of Blades and still produce only in Solingen. Production may be cheaper in other international locations, but continuity and long-term vision are important to us and we believe this is exactly the right attitude when it comes to crafting our knives. You could call it caution, but throughout our family history, we've certainly shown more than enough courage.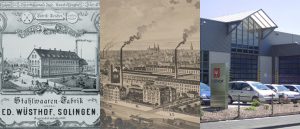 A family company since 1814
Large parts of Europe were still under the grip of the Napoleonic Wars when Johann Abraham Wüsthof founded his 'Shears factory, steel and iron works' in 1814. Calling it a factory was as optimistic as the business itself proved to be: our company founder and his apprentice toiled away in this so-called 'factory' (actually a cellar) making scissors, day in, day out. However, Johann Wüsthof's optimism was soon to pay off and the company grew and gained greater recognition, not least thanks to his three sons, who all learned their father's trade.
One of the sons, Eduard Wüsthof, eventually took over the factory and expanded the range to include no fewer than 1,200 models of various handmade pocket, bread, vegetable and butcher's knives. The first overseas business trip was taken in 1881 by his brother Robert, who was in charge of business management.
First USA trip: from pot-washer to exporter
A 12-day crossing awaited Robert Wüsthof, who took with him his luggage, including two cases of scissors and pocket knives, as well as the determination to sell his products at a profit in the USA. His arrival, however, was disappointing: an agent who had made great promises in Germany could not follow through and Robert did not even have enough money to clear his goods through customs.
For several months, Robert managed to keep his head above water with odd jobs – including waiter, pot-washer and glove-launderer – until he met another businessman who was enthused by the Solingen knives and ordered double the quantities Robert had with him. So the journey turned out to have been worthwhile and the new business relationship with the USA was to become a very productive one over the course of the next decades.
Industrialisation takes hold
Back in Germany, business was also booming: so much so that a large factory, the Trident Works (Dreizackwerk), was built on Kronprinzenstrasse in Solingen – where the WÜSTHOF headquarters are to this day. A steam-powered machine was purchased, production was expanded, and a patent application filed for the iconic trident logo.
It was a real success story that would have continued had it not been abruptly interrupted by the First and Second World Wars. The business had to adjust to meet the demands of the war economy and after the end of World War II Solingen was in ruins. But the Trident Works had been narrowly spared, so production of scissors, knives, cutlery and more could quickly be resumed.
Times of crisis are times of business
However, there was a catch: all the other knife manufacturers were able to modernise their factories when rebuilding, whereas WÜSTHOF had to make improvements while attempting to run the business as usual. As a result, this period was marred by crises, debts and the threat of bankruptcy.
It is thanks to Eduard Robert and Wolfgang Wüsthof that bankruptcy was avoided. They steadily opened up new sales regions, built new manufacturing facilities and modernised production. Keeping in mind the saying 'jack of all trades, master of none', the Wüsthof portfolio concentrated on the essentials: knives. High-quality, forged knives for household and professional use. Further milestones during this period included the introduction of the Classic series – still in production today – and the founding of the distribution company WUSTHOF-TRIDENT OF AMERICA INC, which brought the business full circle from the steamboat crossing of 1881 that led to the beginning of trading in America.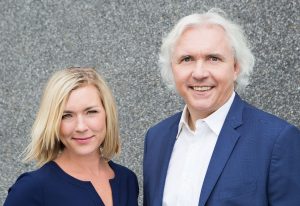 WÜSTHOF in the 7th generation
Today Eduard Robert and Wolfgang's children, cousins Viola Wüsthof and Harald Wüsthof, run what has become one of the most progressive knife manufacturers in the world. Our knives are exported from Solingen, the City of Blades, to 80 countries around the world – from Reykjavík to Cape Town and from Tokyo to San Francisco. We are proud of our heritage, our tradition of craftsmanship and the wealth of experience we can look back on.
Our aim is to offer foodies, cooking enthusiasts and chefs all over the world quality knives that remain sharp while being beautiful, functional and perfectly balanced. Our knives provide a unique experience with every stage of meal preparation. Together with over 400 employees, we develop and manufacture not only classic but also innovative knives that break new ground in design, material and workmanship.
The next 200 years will see us keeping to one path come what may: the path to the Trident Works (Dreizackwerk) in the City of Blades, Solingen.