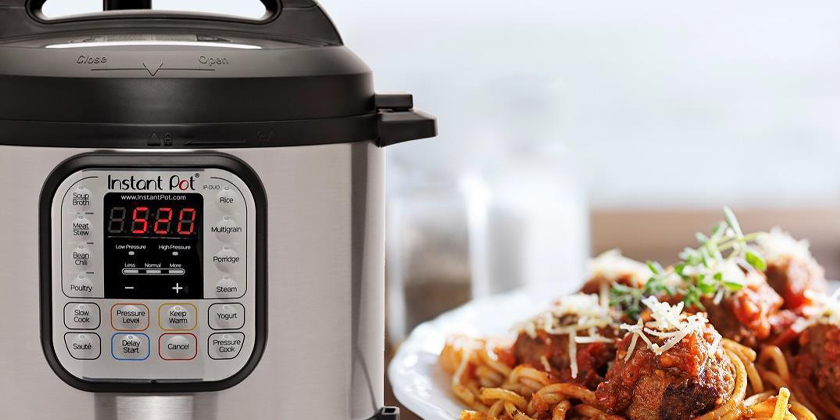 North America's #1 Selling Small Kitchen Appliance
The best-selling Instant Pot Duo multicooker not only replaces 7 appliances, but it also speeds up cooking by 2-6 times and saves up to 70% of the energy used in traditional cooking methods. The Duo line features a solid range of Smart Programs and features that will revolutionize the way you cook. The Instant Pot Duo Series uses the latest 3rd generation technology with an advanced microprocessor that monitors the pressure and temperature, keeps time, and automatically adjusts heating intensity and duration. Even the volume of food is taken into consideration, ensuring that your meals turn out perfectly, every time.
At Chef's Complements, we stock 2 convenient sizes of the Instant Pot Duo 7-in-1 to suit the way you cook; 5.7L & the 8L. These sizes come with 13 standard one-touch Smart Programs — Soup/Broth, Meat/Stew, Bean/Chili, Slow Cook, Sauté, Rice, Porridge, Steam, Yogurt, Keep Warm, Pressure Cook, Multigrain and Poultry. And because the Duo is an Instant Pot, you know it brings all the quality and convenience that has made the Instant Pot name synonymous with multi-cookers.
Worry-Free Cooking
Smart Program timed cooking presets let you "set it and forget it," freeing you to do other things while the Duo cooks your dinner safely and quickly, with minimal mess and easy cleanup.
Built Strong. Built Safe.
The sealed cooking chamber makes no noise, gives off no heat and produces no smells. It traps all the aroma in the food without heating up the kitchen. The durable 3-ply stainless steel bottom inner pot eliminates health concerns associated with non-stick coatings, and the brushed stainless steel exterior is fingerprint-resistant. This world-famous appliance protects you with 10 proven safety mechanisms and patented technologies to meet the highest safety standards and UL certification and give you uncompromised safety and peace of mind.
Replace up to 10 individual appliances!
Rice Cooker, Pressure Cooker, Slow Cooker, Steamer, Yoghurt Maker, Warming Pot, Saute Pan, Egg Cooker, Porridge Maker and a Sterilizer.
The most versatile range of foods can be cooked
With multi-in-built smart auto programmes and 10 safety systems, a multitude of meals can be prepared.
Soups, Stews, Beans, Vegetables, Pasta, Eggs, Rice, Cakes, Yoghurt, Meat (including ribs, chicken wings, pulled pork and more)
Viewing 1–12 of 15 results
Instant Pot Duo 7-in-1 Multi-Cooker 5.7L

$

229.00

Instant Pot Duo 7-in-1 Multi-Cooker 8.0L

$

289.99

Instant Pot Duo Crisp + Air Fryer 7.6L

$

429.99

Instant Pot Duo Nova 7-in-1 Multi-Cooker 3.0L

16% OFF


Instant Pot Duo Nova 7-in-1 Multi-Cooker 5.7L

16% OFF


Instant Pot Duo Nova 7-in-1 Multi-Cooker 8L

16% OFF


Instant Pot Tempered Glass Lid 3L

$

19.99

Instant Pot Tempered Glass Lid 5.7L

$

22.99

Instant Pot Tempered Glass Lid 8L

$

23.99

Instant Vortex Air Fryer Oven 10L

$

349.99

Instant Vortex Mini Air Fryer Black 2.0L

$

149.99

Instant Vortex Mini Air Fryer White 2.0L

$

149.99