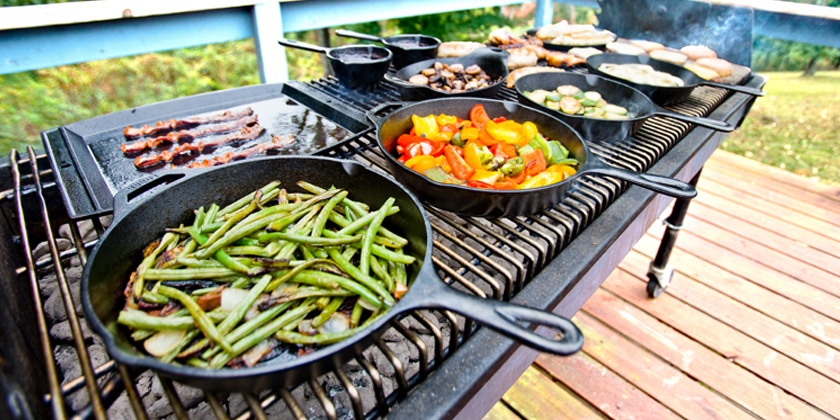 We're your experts for induction cookware, non-stick, stainless steel, ceramic and cast iron cookware.
Whether you want to buy cast iron cookware, or whether you are looking for non-stick, stainless steel, ceramic or induction cookware for sale – you're on the right kitchen website! Chef's Complements provide cookware for both family cooks and commercial chefs and you will find every item imaginable that you could use for cooking on the stovetop, alongside handy accessories.
Here, you can buy skillets, pots and pans, casseroles, woks and tagines. You'll find induction cookware sets, steamers, microwave cookware and pressure cookers for sale. Even the smallest things such as wok rings, handle sleeves or soup socks are taken care of.
At Chef's Complements, we are proud to bring you top-quality international brands such as:
Scanpan skillets, non stick frying pans & sets
Silit cookware made in Germany
Le Creuset cast iron cookware made in France
Lodge Logic cast iron cookware (including skillets) made in America
Finex cast iron made in America
Emile Henry ceramic cookware made in France
De Buyer steel made in France
Garcima made in Spain
Essteele pots and pans made in Italy
Viewing 1–12 of 980 results
Academy Home Goods European Beechwood T Shape Crepe Spreader

$

7.99

Agee Kitchen Trivet Square

$

16.99

Agee Kitchen Trivet/Grab It Blue

$

22.99

Agee Preserving Essential Set 5 Piece

$

36.99

Agee Simmer Mat Octagonal 20cm

$

29.99

Agee Stainless Steel Preserving Pan 6L

$

149.99

Aluminium Sauce Pan 1.5L

$

36.99

Aluminium Sauce Pan 10L

$

102.99

Aluminium Sauce Pan 2.5L

$

46.99

Aluminium Sauce Pan 3.5L

$

55.99

Aluminium Sauce Pan 4.5L

$

60.99

Aluminium Sauce Pan 5.5L

$

73.99