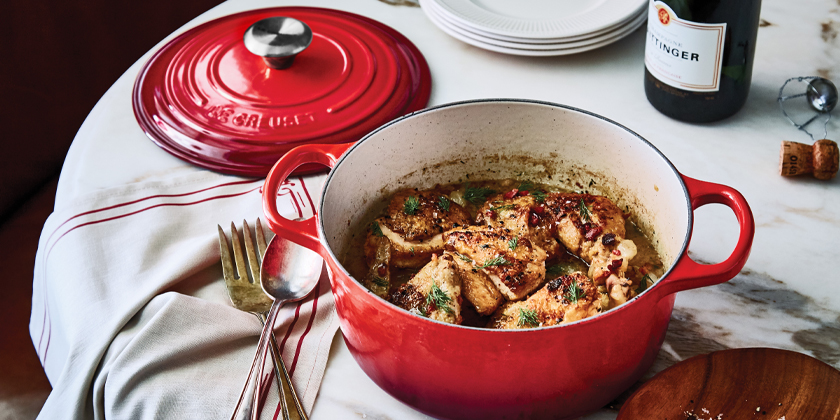 Dutch Oven & Casserole Dishes
Master the art of one-pot cooking with Chef's Complements' Dutch oven and casserole dish selection.
If you're a fan of Jamie Oliver's 15-minute meals, you'll want one. If you love comfort food you need one. If you loathe doing dishes you can't do without one. The trusted casserole dish or Dutch oven.
Whether you are having a roast for dinner, whether you're trying grandma's favourite casserole recipe, or whether you're making a spicy, fragrant curry, heart-warming soup or a tasty pasta bake – a Dutch oven/casserole dish helps you create beautiful one-pot meals.
Not only can you take your creations straight to the table for presentation, but casseroles can also be used for baking. A cast iron casserole dish, for example, is ideal for baking bread in.
At Chef's Complements, we have a wide selection of casseroles to complement our range of ceramic baking dishes. We have round and oval Dutch ovens, stainless steel, anodized and heavy cast iron casserole dishes. Whichever you choose, don't forget trivets to put your hot casseroles on the table or bench!
How to Choose a Casserole Dish
There is a range of casserole dishes/Dutch ovens on the market. To choose the one that best suits your needs, there are a few things to consider.
Size. First up, it always makes sense to have more than one size when it comes to casseroles (just like saucepans!) . Since they can be used for so many different things, it's good to have a large Dutch oven for roasts, casseroles and stews and a smaller baking dish for compotes, side dishes, pasta dishes and small loaves of bread.
Shape. At Chef's Complements we have round and oval casserole dishes and Dutch ovens. Round is generally used for stews and soups, while oval ones are better for pot roasts or legs of lamb etc.
Weight. As a rule of thumb, the heavier a casserole dish is, the better. You can quickly brown meat on the stove before you put it in the oven, and a thick-based, heavy casserole traps the juices inside the pot which creates a tastier meal and even heat distribution.
Types of Casserole Dishes
Last but not least you'll want to consider the material your casserole dish is made of.
Anodized Aluminium: Anodized aluminium casseroles (such as our Le Creuset and Scanpan brands) are non-stick which means easy care and clean-up. Their sleek exterior is an eye-catcher on any modern stove-top, and you don't have to worry about what the eyes don't see: anodizing makes the metal non-reactive so you don't have to worry about leached metals etc.
Stainless Steel: This material gains brownie points when it comes to cost and weight. It's usually less expensive than other materials and more lightweight. A stainless steel casserole dish such as our Scanpan and Essteele brands fits into any kitchen collection, and aluminium cores ensure even heating. Being not entirely non-stick creates tasty browning on food and enriches broths and sauces.
Cast Iron: Highly durable, a cast iron casserole dish even remains stable on an open campfire flame. High heat retention means your food stays warmer for longer. Preseasoned cast iron is non-stick and a popular brand is Lodge Logic (made in America).
Enamelled Cast Iron: Referred to as a French oven rather than Dutch oven, enamelled cast iron offers you the durability of a seasoned cast iron casserole dish with the added beauty and elegance of an shiny outer porcelain enamelling. Chef's Complements' brands for this type include Le Creuset, Chasseur, Staub, and Lava.
Viewing 1–12 of 142 results
Ballarini Alba Casserole with Lid (2 Sizes)

$

299.00 –

$

339.00

BEKA Nori Cast Iron Oval Dutch Oven 31cm

$

379.00

BEKA Nori Cast Iron Round Dutch Oven 26cm

$

349.00

BIA Quick Recipe Lidded Casserole 24.5cm / 2.5L

$

44.99

Blacklock Cast Iron Triple Seasoned 5.2L Dutch Oven

$

395.00

Chasseur Cast Iron French Oven 10cm French Blue

64% OFF


Chasseur Cast Iron French Oven 20cm Round (3 Colours)

$

289.00 –

$

379.00

Chasseur Cast Iron French Oven 24cm Round (14 Colours)

$

494.00

Chasseur Cast Iron French Oven 26cm Round (17 Colours)

$

574.00

Chasseur Cast Iron French Oven 27cm Oval (5 Colours)

$

399.00 –

$

494.00

Chasseur Cast Iron French Oven 28cm Round (17 Colours)

$

449.00 –

$

649.00

Chasseur Cast Iron French Oven 30cm Low Round (12 Colours)

$

419.00 –

$

544.00