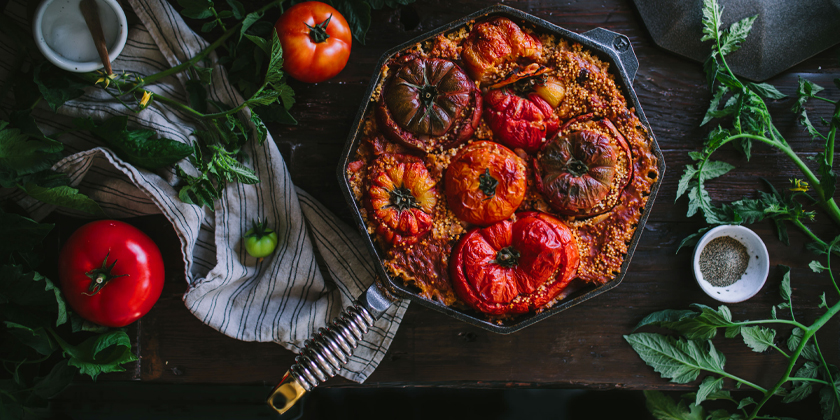 AN AMERICAN TRADITION, REINVENTED.
The FINEX journey began with the search for healthier cooking. They wanted a pan that would provide a soulful cooking experience and look good while doing it. Through trial and error, they found that the quality of current cast iron cookware didn't measure up. They became obsessed with the intentional design, quality and craftsmanship of antique cast iron cookware—and decided they would stop at nothing to build it on American soil. FINEX wanted to build functional, durable cookware that's better than anything on the market today
FINEX is a small team of craftspeople, cooks and designers based out of Portland, Oregon, U.S.A., and are dedicated to crafting quality cookware that will stand the test of time. Their work is inspired by the hardworking history of American cast iron and grounded in their belief that cooking should be genuine – an experience you value and share with others. It's these simple ideals that guide FINEX to reinvent cast iron cookware with modern design to enhance the life of every cook. Their work ethic is a bit outdated. They polish metals by hand and season the cast iron the slow way. While the production may reflect old-fashioned techniques, FINEX boasts a range of ultra-modern designer cast iron cookware pieces. FINEX believe the things you use every day should be beautiful, guaranteed for life, and 100% American made. Portland is home to one of the largest collections of cast-iron architecture in the USA, dating back to the 1850s. This spirit has carried on through the decades and is an essential part of FINEX's DNA today. Their small team is passionate about crafting cast iron cookware that lives up to our "Good Forever" guarantee with Portland's foundry tradition in tow.
DESIGNED FOR LIFE.
FINEX pays homage to the best attributes of vintage cast iron cookware: machine-smoothed cooking surfaces, flaxseed oil pre-seasoning and stone-tumble polishing. The FINEX team took to the drawing board and meticulously worked to make their pots and pans even better. FINEX cookware blends together essential elements of soulful cooking to give you the best experience and performance whenever and wherever life wants you to cook. FINEX cookware is equally at home on the stove, in the oven, on the grill or over a bed of coals. Cast Iron Cookware by FINEX is so versatile it's sure to complement any cooking style, at any level, on any heat source – and look great on your table. It stands up to an open flame while elevating the meal at the dining room table. A true all-rounder.
Construction
Crafting a new class of quality. It takes FINEX longer to craft their cookware, but luckily for us, they don't believe in shortcuts. FINEX are meticulous on quality and their cast iron cookware surpasses current standards. TWELVE. That's how many pairs of hands it takes to craft FINEX Cookware, and about the same amount of hours. These pans are crafted by hand the hard way, and we sweat the details because every FINEX pan is guaranteed Good Forever. Cast with precision using temperatures exceeding 2000 degrees, FINEX carefully melts quality sourced iron to start their craft process. Every cast iron pan is cast with precision by hardworking American hands. Using tried and true tools including angle grinders, buffing wheels and industrial tumblers, FINEX go to work carefully refining the iron to bring out each pan's thoughtful design. Paying close attention to every detail, they allow for subtle variations that make each piece unique and have their own personality that'll fit right into your kitchen, grill or campfire. Every pan is polished, tumbled, pre-seasoned and assembled completely by hand.
Viewing 1–12 of 15 results
FINEX 3-Piece Cast Iron Care Kit

$

149.00

FINEX Cast Iron Double Burner Griddle 46cmx31cm

$

725.00

FINEX Cast Iron Dutch Oven 4.7L

$

799.00

FINEX Cast Iron Grill Pan 26cm (Grillet)

$

475.00

FINEX Cast Iron Grill Pan 30cm (Twin Spring)

$

645.00

FINEX Cast Iron Lean Grill Pan 38cm

$

295.00

FINEX Cast Iron Octagonal Lid 20cm

$

175.00

FINEX Cast Iron Octogonal Lid 26cm

$

225.00

FINEX Cast Iron Sauce Pan 0.95L

$

350.00

FINEX Cast Iron Skillet 20cm

$

350.00

FINEX Cast Iron Skillet 20cm with Lid

$

475.00

FINEX Cast Iron Skillet 26cm

$

475.00