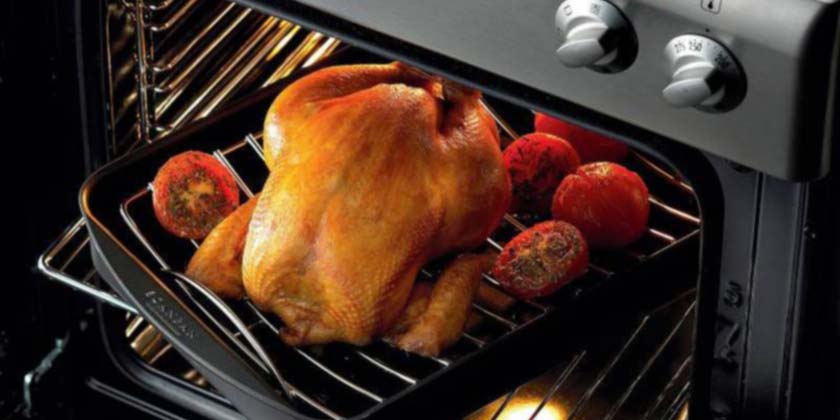 Roasting Dishes & Accessories
Because you need a good roast pan for every Kiwi roast!
The Kiwi Sunday roast is a real institution and so it goes without saying that every household needs a quality roast pan! Whether you love a classic leg of lamb or whether you go hunting for wild venison, whether you're a roast chicken expert or whether you can make the perfect pork crackling – a good roaster dish is an investment that will keep giving back for many years. Baking trays and roasting dishes can be made from a wide range of materials (see guide below), but there are a few other things to consider.
Size. Once you know the internal width of your oven, you can decide on the size of your new roast pan. Whether you cook for a large family or just a couple of people, the roast should fit inside the roaster dish without touching the sides. This way, you prevent the meat from stewing in its own juice rather than roasting. Also think about the height of the sides. Roasting dishes which are too deep won't brown the lower half of your roast, while those which are too shallow can't retain those delicious gravy juices well. The ideal height is 5 to 8 cm.
Quality. Cheap roasting dishes can be quickly affected by long periods in the hot oven. What's more, stainless steel baking trays without rolled edges can develop an uneven base which will dry out your roast. A high-quality, heavy roast pan makes it easy to move the pan with its juices to the stove top, while a thin pan won't take the heat from burners.
Shape. This comes down to practicality vs aesthetics. A rectangular baking tray is the most effective, while an oval roast pan is great for direct oven-to-table use. The latter is also ideal for a turkey or goose.
Extras. Handles are great for manoeuvring large roasts, and roasting racks that sit neatly inside the tray prevent the meat from boiling in the pan, allowing the liquid to drip down. Roast racks are also brilliant for crisping the skin and even cooking since they allow for hot air circulation. Non-stick racks make cleaning up easy. Finally, a covered roaster dish is brilliant for cooking Christmas hams and turkeys and keeping them moist.
Even more extras. As you pick up your new baking tray/roast pan, make sure you don't forget handy bits and bobs such as basters, carving knives, oven gloves and thermometers.
Roast Pan Comparison – Materials
Stainless steel, aluminium, cast iron or a whole different material – which material is the best for roasting dishes? We have put together a few pointers on each to help you decide.
Stainless Steel. A stainless steel roast pan makes beautiful gravy and is good for deglazing. It doesn't react with food, can be used with induction and is good for high-heat roasting. You can use metal utensils on this surface, and it's lighter than cast iron or stoneware.
Enamelled Cast Iron. This material holds heat well and can be taken straight to the table because it's beautiful. It won't leach metals/chemicals into food, can be used for marinating and promotes caramelisation. You can use enamelled cast iron with induction and it's easy to clean. It can be heavy to carry though.
Copper. A copper roast pan is an oven-to-table dish and ticks all the boxes when it comes to looks. You can't use it on induction but it's an excellent conductor of heat.
Enamel on Steel. This light-weight, easy-to-carry option is economically priced and doesn't contain chemicals. It is naturally non-stick, suitable for induction and you can use metal utensils on this surface. Enamel-on-steel roasting dishes often have lids, but ribbed bottoms make it harder to make gravy and they may not work on ceramic cooktops.
Earthenware. With an earthenware roaster dish you don't need oils and get tender, flavourful roasts. Vitamins and minerals are preserved with this natural, healthy cooking style. They can be awkward to store, but lids prevent splatters and keep your oven clean.
Anodised Aluminium. While it's a good conductor of heat, it won't work on induction. It's lighter than cast iron or stoneware and easy to clean.
Non-stick. Non-stick roasting dishes are lighter than cast iron or earthenware, they're easy to clean and cost-effective. However, you can't use metal utensils on them, and the coating of cheap non-stick dishes can easily be damaged, which can make them unsafe.
Viewing 1–12 of 96 results
Appetito Adjustable Roasting Rack

$

16.99

The easiest way to cook a juicy, delicious roast, without burning the bottom or having to rotate it

Appetito Cradle Roasting Rack

$

16.99

Allows for even roasting of poultry

Appetito Reversible Roasting Rack

$

9.99

Each side of the rack provides a different roasting height

Avanti Adjustable Non-Stick Roasting Rack

$

15.99

The Avanti Adjustable Non-Stick Roasting Rack cooks poultry and meat evenly and provides consistent heat circulation for better browning and less shrinking.

Avanti Deluxe Baster Set

$

22.99

The Avanti Deluxe Baster Set is perfect for preparing Sunday roasts.

Avanti Deluxe Flavour Injector Set 50ml

$

29.99

The Avanti Deluxe Flavour Injector Set enables you to add flavour and tenderise your poultry and favourite cuts of meat.

Avanti Non-Stick Poultry Roaster

$

14.99

The Avanti Non-stick Poultry Roaster is an ideal piece of cookware to assist you in cooking the perfect, golden brown roast chicken.

Avanti Silicone Fat Reducing Mat

$

24.99

Cook food evenly, crisp and juicy the healthy way with the Avanti Fat Reducing Mat.

Avanti Stand Up Baster Set

$

12.99

Cook a tasty roast to perfection without the mess with the Avanti Stand Up Baster Set.

Bakemaster Non-Stick Roasting Pan and Oven Tray

$

64.99

Includes a heavy-duty roasting pan and oven tray suitable for all your baking, grilling and roasting needs

Bakemaster Non-Stick Roasting Pan Deep Large 39x28x7cm

$

37.99

A premium roasting pan ideal for roasting meat, poultry and vegetables.

Bakemaster Non-Stick Roasting Pan Deep Medium 34x26x7cm

$

32.99

A premium roasting pan ideal for roasting meat, poultry and vegetables.