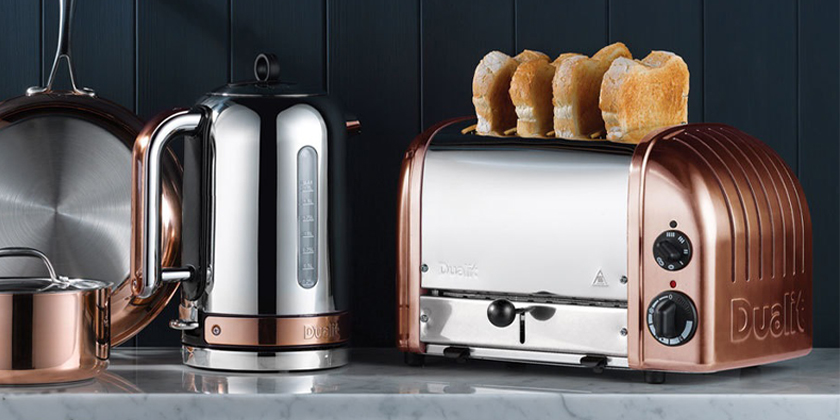 Dualit is a leading name in the industry of kitchenware countertop appliances. They have been producing quality products by hand in the UK since the 1940s and their quality and innovation has never been compromised over this time. They have won countless awards over the years for their products.
Dualit's success lies in a single-minded vision for the company and its products which hasn't changed since Max Gort-Barten started the company back in the 1940s.
Dualit Quality
Lots of companies talk about quality; for Dualit, it is a fundamental part of the business. Our Quality Policy exists to provide employees and suppliers with a framework that ensures they deliver our promises to customers, whether product or service related. Its success is a consequence of several key factors – a continuous process of monitoring and improvement, senior management 'champions', supplier relationships that work as true partnerships, and employees who often 'go the extra mile' for the benefit of their customers.
Dualit Responsibility
Our Customers have high expectations concerning our Ethical Standards and we need to ensure we can live up to those expectations. For this reason, Dualit has implemented an Ethical Sourcing Procedure which is based on international standards such as the conventions of the International Labour Organisation. We regularly visit our Suppliers and conduct Site Inspections & Audits to ensure their compliance to our standards.
Dualit Environmental
Dualit is aware of its environmental responsibilities and we have implemented procedures to prevent pollution, minimise waste, reduce our emissions and manage risks and hazards. We are working to reduce the energy consumption of our products and we actively encourage recycling both of our own waste and that of our customers with the aim of reducing the amount going into landfill.
Viewing 1–12 of 73 results
Dualit Architect Kettle Black Trim Brushed Stainless 1.5L

$

319.00

Dualit Architect Kettle Panel Pack (5 Colours)

$

65.99

Dualit Architect Toaster Panel Pack (3 Colours)

$

79.99

Dualit Black Mini Oven 22L

$

549.00

Dualit Catering Pop Up 4 Slice Toaster

$

899.00

Dualit Classic Black 6 Slice Toaster

$

799.00

Dualit Classic Kettle 1.7L Petal Pink

$

399.00

Dualit Classic Kettle Brass 1.7L

$

399.00

Dualit Classic Kettle Copper 1.7L

$

399.00

Dualit Classic Kettle Eucalyptus 1.7L

$

399.00

Dualit Classic Kettle Polished 1.7L

$

399.00

Dualit Classic Kettle Powder 1.7L

$

399.00