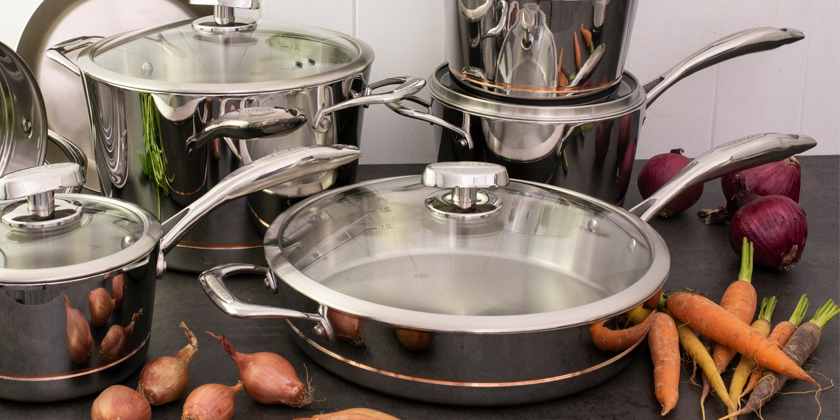 Stainless steel pans are often the number one choice for professionals for their durability and ease of use.
Considered to be best for browning ingredients, a stainless steel fry or sauté pan is a fantastic all-around option for home cooks.
Read more about how to choose the right frying pan in this blog post.
Viewing 1–12 of 23 results
Blomsterbergs Copper Frypan 20cm

$

229.00

Blomsterbergs Copper Frypan 28cm

$

349.00

Chasseur Escoffier Frypan (4 Sizes)

$

159.00 –

$

269.99

Chasseur Escoffier Saute Pan 28cm

16% OFF


Essteele Per Vita 24cm Skillet

$

209.99

Essteele Per Vita 26cm Sauteuse

$

309.00

Essteele Per Vita 28cm Skillet

$

249.99

Essteele Per Vita 4 Piece Cookware Set

$

699.00

Le Creuset Professional Hard Anodised Uncoated Frying Pan (3 Sizes)

$

310.00 –

$

379.00

Le Creuset Signature 3Ply Stainless Steel 26cm Saute Pan

$

499.00

Le Creuset Signature 3Ply Stainless Steel Chefs Pan 20cm

$

399.00

Le Creuset Signature 3Ply Stainless Steel Rondeau with Lid 26cm / 4.3L

26% OFF