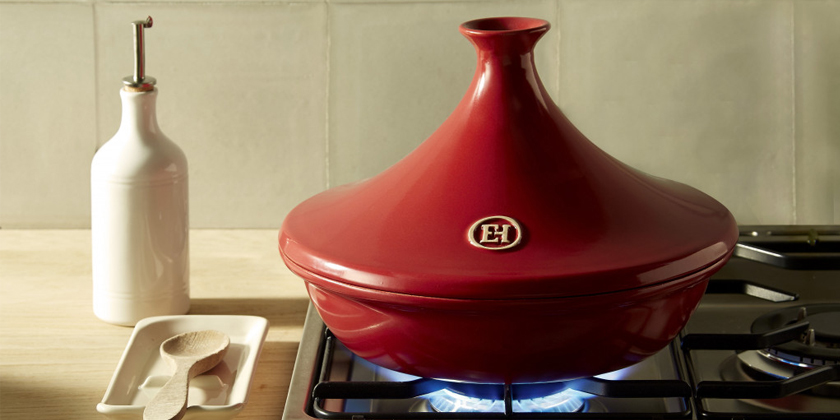 Emile Henry tagines are the pinnacle of French design.
Emile Henry cookware has been produced in Burgundy, France, for more than 170 years. To this day, this family-owned-and-operated company produce their beautiful Emile Henry ceramics from non-treated, high-fired Burgundy clay, with each piece signed by the worker who made it!
In a world of chemicals and highly processed foods, Emile Henry ceramics naturally enhance flavours and aromas: from the base material through to the glaze, everything in their production is 100% natural, a fact which is mirrored by their earthy-inspired colour palette.
Whether it's an Emile Henry tagine, utensils or tableware, you won't find lead, cadmium or nickel in their products. Rather than chemical non-stick coatings, they utilise highly resistant glazes which allow cooking with minimal amounts of fat and which are easy to clean. Advocates of delicate cooking, Emile Henry Flame ceramics heat as much as cast iron but then act as a heat diffuser rather than conductor, making very high temperatures unnecessary. This means you cook your ingredients gently, food doesn't burn and the flavours and vitamins are kept intact.
Here at Chef's Complements, we stock a range of baking dishes, casseroles and speciality cookware in many colours, sizes and shapes, all to prepare something special, re-discover home baking, share a comforting dessert and discover new flavours.
Emile Henry Tagines
Undeniably the stunner of the range, Emile Henry tagines impress with a typical conical shape in a range of beautiful colours. Dating back as far as the 9th century, this design allows steam to rise into the cone, condense and trickle back down the sides, finishing dishes tender, aromatic and rich with flavour. Made from Flame ceramic, these pinnacles of elegant French design can be used directly on the heat or in the oven. We carry Emile Henry tagines ranging from 25cm through to 31cm in a range of colours.
Check out our 'All about Emile Henry' Blog for more handy information on this luxurious brand.
Viewing 1–12 of 52 results
Emile Henry 3 Baguettes Baker Burgundy 39x24cm / 3.09L

$

249.00

Emile Henry 3 Baguettes Baker Linen 39x24cm / 3.09L

$

249.00

Emile Henry 5 Mini Baguettes Baker Burgundy 39x23cm / .5L

$

249.00

Emile Henry 5 Mini Baguettes Baker Linen 39x23cm / .5L

$

249.00

Emile Henry Aperitivo Platter 31x10cm Tapenade

$

39.99

Emile Henry Artisan Bread Baker Burgundy 5L

$

249.00

Emile Henry Baker's Blade

$

36.99

Emile Henry Bread Baker Round Linen 5.2L

$

229.00

Emile Henry Bread Box 35.5X24.5cm Chalk

$

229.00

Emile Henry Bread Loaf Baker Burgundy 2.2L

$

199.00

Emile Henry Bread Loaf Baker Charcoal 2.2L

$

169.00

Emile Henry Bread Loaf Baker Linen 2.2L

$

169.00