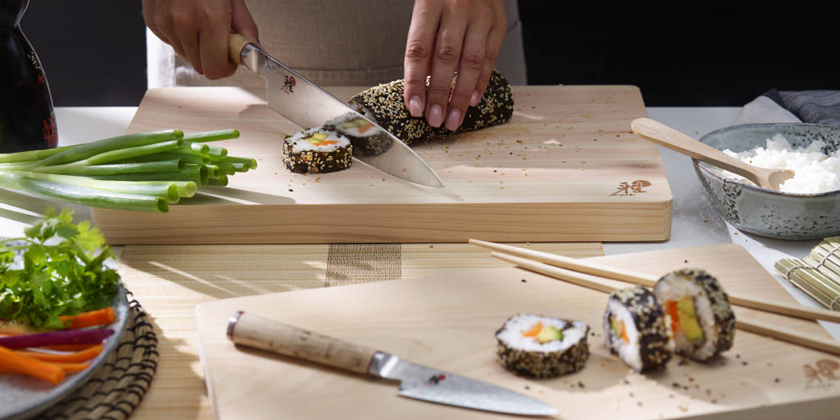 Buy every kitchen knife imaginable, from cook's knives through to mandolin and mezzaluna.
Chef's Complements' kitchen knife department is a cut above the rest. At our shop you get the best brands and selection of kitchen knives, whether you're a food blogger, family cook or whether you own a commercial kitchen.
We stock every knife imaginable for chopping, dicing, carving, filleting and boning. Buy mezzalunas, browse our manolins for sale, get a special on top-quality kitchen knives.
Of course we also carry an extensive range of accessories: We have knife guards and rolls, storage blocks, magnetic wall racks, kitchen scissors and knife sharpeners for sale.
We are proud to supply brands such as Arcos, WÜSTHOF-TRIDENT, Victorinox, Global, Opinel, Scanpan, Zwilling Henckels, Messermeister, Mundial, Victory, Yaxell and Kai Shun. With Chef's Complements it's easy to sharpen up your kitchen.
Tip: Knife Safety in Your Kitchen
Whether you are cooking with mandolins, mezzalunas or paring knives – your appendages are important … follow our simple knife safety instructions to keep them all intact!
Always cut in a direction away from your body
Store knives in a safe manner not jumbled in a drawer – refer to our knife storage section for all the right accessories
Choose the correct kitchen knife for the task in hand
Don't hold food in your hand, always use a cutting board 
Ensure your cutting surface is stable & non-slip
Never leave a knife soaking in the kitchen sink
Keep your knife sharpened with a good knife sharpener – a blunt knife requires more force
Always pay attention to what you are doing
Keep your kitchen knife handle dry and clean
If you drop you knife stand back – don't attempt to catch it!
Only use a knife for its purpose, it is not a bottle opener!
Viewing 1–12 of 1122 results
amalfi Renzo Cheese Knives Set of 3

$

69.99

André Verdier Laguiole Debutant 2 Piece Cheese Set Black

$

39.99

André Verdier Laguiole Debutant 2 Piece Cheese Set Blue & Stainless Steel

$

39.99

André Verdier Laguiole Debutant 2 Piece Cheese Set Brass

$

44.99

André Verdier Laguiole Debutant 2 Piece Cheese Set Bright Red

$

39.99

André Verdier Laguiole Debutant 2 Piece Cheese Set Green & Orange

$

39.99

André Verdier Laguiole Debutant 2 Piece Cheese Set Ivory

$

39.99

André Verdier Laguiole Debutant 2 Piece Cheese Set Mouse Grey

$

39.99

André Verdier Laguiole Debutant 2 Piece Cheese Set Multi

$

39.99

André Verdier Laguiole Debutant 2 Piece Cheese Set Navy

$

39.99

André Verdier Laguiole Debutant 2 Piece Cheese Set Olive Wood

$

59.99

André Verdier Laguiole Debutant 2 Piece Cheese Set Pale Green

$

39.99