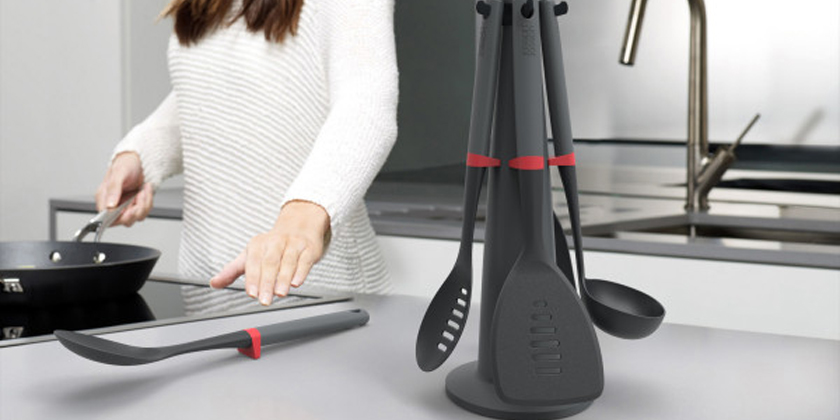 A utensil set is a must-have for any kitchen. They offer the ease of not having to select individual tools and the simplicity of having a curated collection set out for you. They also look professional stored together in your drawer or on your benchtop as they all match. With a variety of materials, brands and purposes, you'll find your perfect fit from our selection below.
Nothing here you fancy?
That's okay! We have a VAST range of full utensil collections from all around the world that are made with all sorts of materials.
There's the Avanti Multi-In-1 Range where each tool has been specially designed for multi-use and comfort. They're heat resistant to 210°C and suitable for use on all cookware surfaces including non-stick.
The Avanti Silicone Utensil Range consists of fun, functional and affordable kitchen tools and accessories that are also safe on non-stick surfaces and heat resistant up to 250°C
ClickClack also has a range of kitchen utensils that are sure to impress. Designed to both perform and stand out in any kitchen, they're made from the finest stainless steel, high-temperature silicone and nylon so they can handle heat up to 250°C
Cuisipro has a very extensive range of kitchen utensils both in stainless steel and silicone and they also have a mini-sized range. The Tempo Tools range has been designed to add practicality and style to every kitchen. The heavy-gauge, mirror-finished stainless steel construction is resistant to both high and low-temperature extremes. Other pieces in the range also feature hanging holes for display and storage and the siliconeware is heat resistant up to 300°C!
Di Antonio has a practical range of bamboo utensils that look great and are environmentally-friendly
The Gefu Primeline Collection is a fantastic German-designed range of high-quality kitchen utensils that can be used and placed on display in every household. It even has a beautiful kitchen rack to show off your Primeline collection
OXO Good Grips have a truly extensive range of utensils ranging from nylon to stainless steel to silicone. If you're looking for a turner, they've got a lot of options!
If you've got Scanpan cookware or knives at home, maybe you'd fancy matching kitchen utensils? The Scanpan Classic Tools range are crafted with chefs and culinary enthusiasts in mind. They feature ergonomic handles, a hole for hanging storage and as always, designed in Denmark.
Hot-seller's have been Staub's NEW black matte silicone and acacia wood utensils. Their comfortable and ergonomic design makes it enjoyable to use and the gorgeous design is easy on the eye when using. Safe to use on all cooking surfaces including non-stick.
For gorgeous gleaming polished stainless steel utensils, try Stellar Premium. The Stellar range of kitchen utensils are efficient, well-designed tools that feature hollow handles are finger-moulded for comfort.
Your kitchen utensils will spend most of their time not being used. So how you're going to store them is definitely something to consider. There are utensil pots and jars to showcase your collection on the benchtop, where they eye you down asking to be used. Alternatively, there are also hanging racks, another option to display your tools and keep them right where you need them. Lastly, there are cutlery and utensil drawer organisers that leave your drawers so in order, you'll actually get into a habit of putting everything back where it belongs!
Viewing all 11 results
Brabantia Tasty+ Kitchen Utensils Set

$

79.99

Cuisipro Silicone Piccolo Baking Set Red

40% OFF


Cuisipro Silicone Piccolo Cooking Set Red

$

114.99

Dreamfarm BBQ Grill Tools Set

$

189.99

Dreamfarm Set of the Best – Kitchen Tool Collection

$

109.99

Joseph Joseph Duo Utensil Set of 5 with Stand

$

99.99

Joseph Joseph Editions Elevate Utensil Carousel Set of 6 Sky

$

154.99

Joseph Joseph Editions Nest Utensil Plus Set of 5 Sky

$

99.99

Joseph Joseph Elevate Silicone Utensil Set of 5

$

139.99

Q.D. Foodie Kitchen Tool Set of 7

$

119.99

WMF Select it! 3 Piece Kitchen Gadget Set

41% OFF