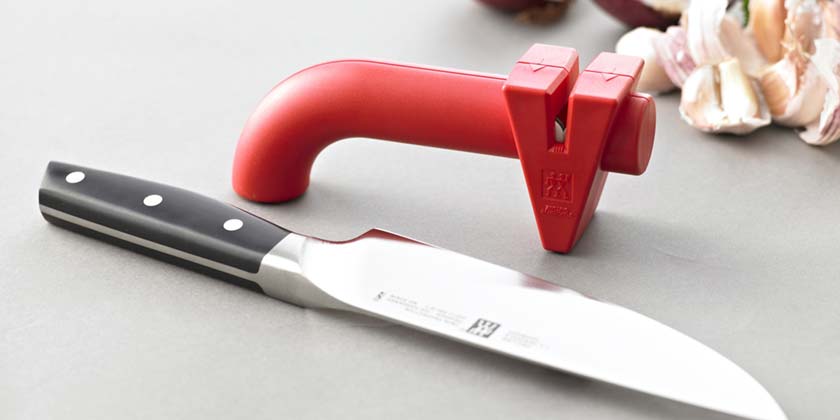 A dull knife is an impractical and dangerous knife. Keep your knives sharp with our extensive collection of knife sharpeners.
Ranging from handheld pull-through sharpeners to electric knife sharpeners to the traditional methods of sharpening stones and honing rods. We've got a collection to suit every knife in the kitchen from Japanese to German, from paring to filleting to pocket knives.
If you're after a knife sharpener but unsure what style might suit you or your knives, read our Ultimate Knife Guide Blog which covers this very question!
Viewing 1–12 of 101 results
Arcos Sharpening Steel (2 Sizes)

$

39.99 –

$

69.99

Chef'sChoice Diamond Hone AngleSelect Sharpener Model 1520

$

369.99

Chef'sChoice Diamond Hone EdgeSelect Knife Sharpener Model 120 White

$

349.00

Chef'sChoice Diamond Hone FlexHone Sharpener Model 320

$

249.99

Chef'sChoice Diamond Hone Knife Sharpener AngleSelect Model 4633

$

84.99

Chef'sChoice Diamond Hone Sharpener Model 316

$

239.99

Chef'sChoice Manual Diamond Hone Knife Sharpener Model 445

$

62.99

Diamond Steel Oval Sharpening Rod Black (2 Sizes)

$

99.99 –

$

109.99

Diamond Steel Oval Sharpening Rod Red (2 Sizes)

$

84.99 –

$

89.99

DMT Dia-Sharp Diamond Mini-Hone Fine 63.5mm

$

29.99

DMT Dia-Sharp Diamond Sharpener Coarse

$

109.99

DMT Diafold Double Sided Diamond Sharpener Fine/Coarse

$

122.99