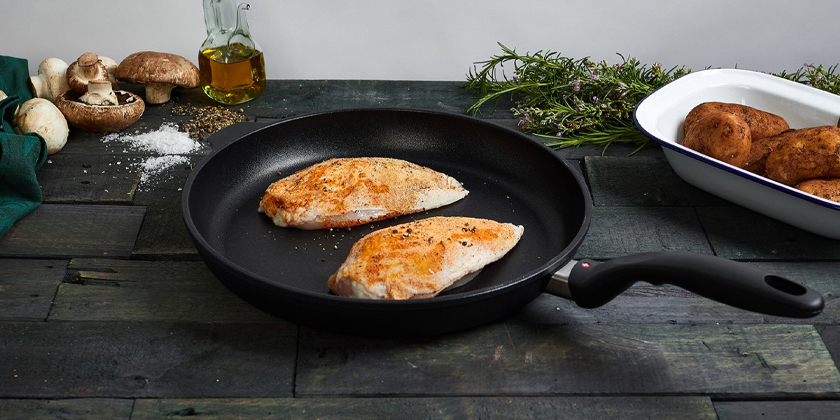 We're your Swiss Diamond Jeweller
Swiss Diamond is dedicated to empowering the home chef by manufacturing the highest quality nonstick cookware in the world from our factory in Sierre, Switzerland. We believe cooking at home should be convenient and healthy – so we use cast aluminium and reinforce our nonstick coating with real diamond crystals.
Swiss Diamond engineers have developed a method of combining real diamond crystals with a high quality non-stick composite for superior cookware performance. For this unique technology, the Swiss Diamond coating received a Gold Medal at the 1999 International Exhibition of Inventors. Combined with a technologically advanced production process, a commitment to green manufacturing and a unique approach to induction cookware, this innovation puts Swiss Diamond at the top of the industry.
The most crucial advantage of Swiss Diamond cookware is our premium non-stick coating. Made of the highest quality nonstick components and reinforced with real diamond crystals, it has been shown in lab tests to outperform and outlast the competition
The ergonomically-designed handles are well balanced and temperature safe up to 260°C, allowing you to finish cooking in the oven. Sturdy tempered glass lids feature an adjustable steam vent for advanced moisture control and are also oven-safe.
Read our Swiss Diamond Blog to find out everything about this amazing brand, including their commitment to green manufacturing practices,
Viewing 1–12 of 14 results
Swiss Diamond Glass Lid (4 Sizes)

$

49.00 –

$

75.00

Swiss Diamond Non-Stick Large Roasting Pan 35x26cm | 5.2L

$

449.99

Swiss Diamond Premium Steel Complete Cookware Set 10 Piece

51% OFF


Swiss Diamond Premium Steel Frying Pan Set of 2

51% OFF


Swiss Diamond Premium Steel Saucepan Set of 3

$

597.00

Swiss Diamond XD Classic Induction Non-Stick 4 Piece Cookware Set

29% OFF


Swiss Diamond XD Classic Induction Non-Stick Frypan 20cm

$

270.00

Swiss Diamond XD Classic Induction Non-Stick Frypans Set of 2

$

499.00

Swiss Diamond XD Induction Non- Stick Wok with Lid & Rack 32cm

$

599.00

Swiss Diamond XD Induction Non-Stick Frypan 24cm

$

315.00

Swiss Diamond XD Induction Non-Stick Frypan 28cm

$

350.00

Swiss Diamond XD Induction Non-Stick Frypan 32cm

$

410.00