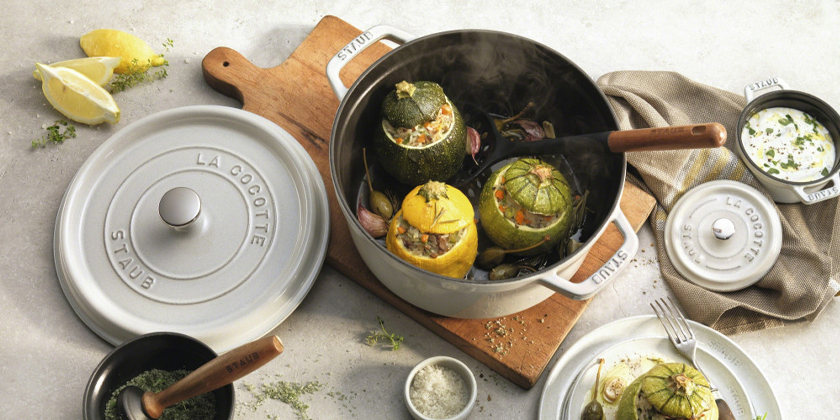 Staub casseroles and designer pots are famous for their superior quality.
If you're looking for statement piece cookware, Staub really is the pinnacle. Located in Alsace, France, this manufacturer of superb quality cast iron is renowned the world over for its beautifully finished Staub casseroles (also called cocottes or Dutch ovens). These casseroles are not just stunning oven-to-table dishes thanks to their shiny finish; they also feature a dimple under the lid to give them the so-called 'aroma rain'.
Sounds fancy? Well, it is! What's more, it'll taste fancy too: the even, continuous rainfall effect created inside a Staub Dutch oven keeps the dish moist, succulent and full of flavour.
As specialist cast iron and ceramic cookware manufacturers, Staub creates dishes for home cooks and professionals alike. Apart from casseroles, Staub makes frying pans, terrines, grill pans, mussel pots and elegant Bouillabaisse Pots, all of which can be used on any heat source (including induction).
Here at Chef's Complements, we have hand-picked some of their finest works – their unique pumpkin and tomato-shaped cocottes. Why not come in-store to see these beauties for yourself!
Viewing 1–12 of 29 results
Staub Cast Iron American Square Grill 26cm (2 Colours)

$

339.00

Staub Cast Iron Bouillabaisse Pot 28cm/4.65L

$

699.00

Staub Cast Iron Chistera Saute Pan 26cm/3.3L Black

$

599.00

Staub Cast Iron Chistera Saute Pan 26cm/3.3L Cherry Red

$

599.00

Staub Cast Iron Chistera Saute Pan 28cm/4.7L White Truffle

$

649.00

Staub Cast Iron Cocotte Grenadine Piggy 24cm

$

599.00

Staub Cast Iron Cocotte Grenadine Rooster 24cm

$

599.00

Staub Cast Iron Cocotte Round Basil Green (3 Sizes)

$

499.00 –

$

649.00

Staub Cast Iron Cocotte Round Black (5 Sizes)

$

399.00 –

$

749.00

Staub Cast Iron Cocotte Round Graphite (4 Sizes)

$

499.00 –

$

749.00

Staub Cast Iron Cocotte Round La Mer (3 Sizes)

$

449.00 –

$

749.00

Staub Cast Iron Cocotte Round Sage (4 Sizes)

$

499.00 –

$

749.00