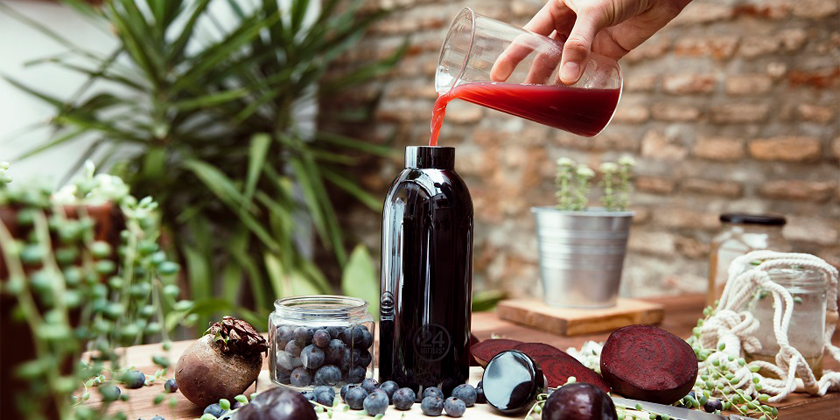 Stay hydrated with our great range of plastic/glass/stainless drink bottles and more.
Reusable drink bottles used to be purely an environmental statement; at Chef's Complements they are a fashion statement. Our sleek insulated stainless steel drink bottles (e.g. by Oasis & Avanti) come in more colours and designs than you could think of; our BPA-free kid's water bottles feature cute prints and have different tops ranging from straw and sippy to sports caps. And if you'd rather have a stylish reusable travel mug, we can help with that too. Choose from stainless steel, composite material and BPA-free tea-infuser bottles (e.g. by 24Bottles)! 
Thermos flasks have come a long way since Granny lugged her glass-lined version around (and had to replace it time and again). We stock a range of double-walled stainless steel drink/food flasks in beautiful colours, with wide-mouth options, extra-large sizes to hold soup for the family and small sizes for baby food on the go.  
If you're looking for water carriers, you've come to the right place too. Chef's Complements carry a range of water containers that are even collapsible and vary in size from 5l to 20l. 
Kids Drink Bottles
We love to look after our little customers and have hand-picked a big range of kids drink bottles and accessories. Our Oasis stainless steel drink bottles come in a handy 350ml size and their slim shape means they fit into any drinks pocket on backpacks and lunch totes, while BPA-free plastic drink bottles feature favourite kids characters. For the littlest ones, we have reusable food pouches, the Kai Carriers, and a range of training cups, sippy cups and straw cups.   
Accessories
Don't forget to buy a bottle brush for your new drink bottle/flask. Alternatively, we also stock innovative BEANS bottle cleaning sponges for bottles with an opening larger than 2cm. For our popular Oasis brand, you can get carabiner clips, sleeves and leakproof pour-through stoppers (lid alternative).
But don't just carry your water in a reusable bottle – pack your food environmentally friendly too! Ditch the clingfilm for Bee's Wraps and browse our extensive Bento Box section.
Viewing 1–12 of 360 results
24Bottles Bottle Tie Black

$

9.99

24Bottles Bottle Tie Orange

$

9.99

24Bottles Clima Bottle 330ml Black Radiance

$

54.99

24Bottles Clima Bottle 330ml Ebony Rose

$

54.99

24Bottles Clima Bottle 330ml Little Buds

$

54.99

24Bottles Clima Bottle 330ml Morning Glory

$

54.99

24Bottles Clima Bottle 330ml Pink Marble

$

54.99

24Bottles Clima Bottle 330ml Rose Gold

$

54.99

24Bottles Clima Bottle 500ml Amnesia

$

64.99

24Bottles Clima Bottle 500ml Ashanti Batik

$

64.99

24Bottles Clima Bottle 500ml Black Radiance

$

64.99

24Bottles Clima Bottle 500ml Camo Zone

$

64.99