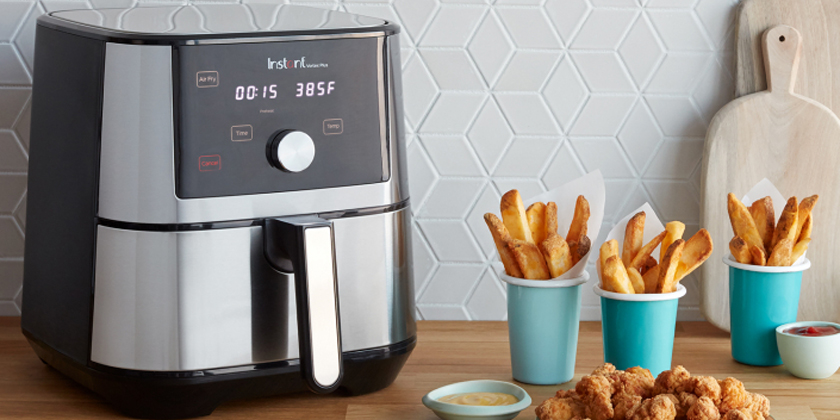 Air Fryers have taken the world by storm and it's easy to see why.
Air Fryers match the same taste and texture from deep-fried foods but with the added benefit of little to no oil being used, resulting in much healthier meals. This also means clean up is a breeze as you don't have to worry about dealing with a whole heap of oil.
What is an Air Fryer?
An air fryer is essentially a mini convection oven that uses a heating element along with a fan circulating hot air above and around your food to convert tiny amounts of moisture into mist. The extra-hot cooking chamber lets dry heat penetrate your food from the outside in, resulting in the familiar crispy texture food you're used to from deep frying.
Air Fryer Health Benefits
If you're on the fence about getting yourself an Air Fryer, maybe take a look at the health benefits that come alongside it. Most Air Fryers do not require the use of oil, or very little of it for that matter. Spraying your food with oil or tossing a bit through the food in the basket will improve the texture and flavour of your food but is not necessary and is also dependant on the recipe. With approx. 40 calories in a teaspoon of oil, it becomes easy to see how using an air fryer can easily reduce your calorie intake. Swap out that deep-fried mars bar for an air-fried sweet treat!
Not just for Air Frying
It only but makes sense that you can air fry in an air fryer, but did you know they offer more to the user than just that. Think of baking, roasts and reheating and in selected air fryers such as our Instant Vortex Plus Air Fryer and the Instant Pot Duo Crisp + Air Fryer you can also broil, reheat and dehydrate! The Cuisinart Express Oven Air Fryer has all the functions of an air fryer, with the added multi-function capabilities from the oven. These cooking functions include air fry, roast, bake, slow cook, pizza, grill, toast, crumpet, warm, reheat, dehydrate, proof & a dual cook function
---
If you're looking for an easy, compact, convenient, versatile and fast cooking appliance to add to your kitchen, you can't go past an Air Fryer
Viewing all 6 results
Cuisinart Express Oven Air Fryer

$

559.00

Instant Pot Duo Crisp + Air Fryer 7.6L

$

399.99

Instant Vortex Air Fryer Oven 10L

$

349.99

Instant Vortex Mini Air Fryer Black 2.0L

$

149.99

Instant Vortex Mini Air Fryer White 2.0L

$

149.99

Instant Vortex Plus Air Fryer 5.7L

$

289.99