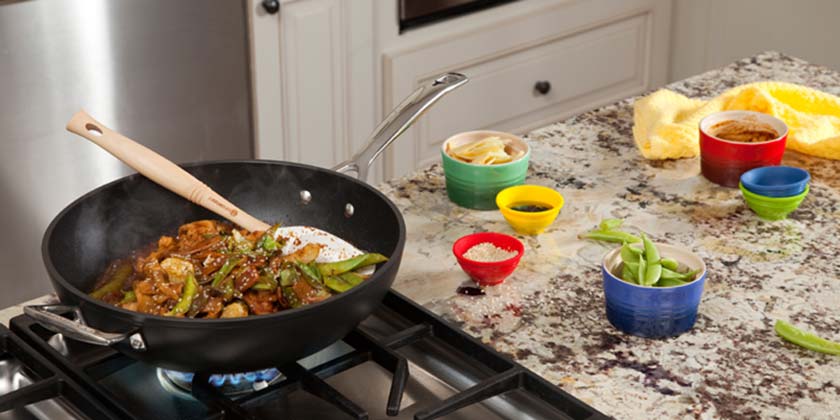 Having a good wok or stir-frying pan is essential for households that enjoy their stir-frys. Featuring large sloping sides that control splatters, woks and stir-frying pans make stirring or tossing of ingredients easy and use less oil in cooking than traditional fry pans.
Synonymous with Asian cooking, woks actually have a few more uses than just stir fry noodles or rice dishes. Give your wok a try for deep-frying, steaming, making soup, fajitas mix, a mussel pot as well as popping popcorn!
Traditionally, woks are made of carbon steel however nowadays, woks come in different styles and materials. Furthermore, with increasing technological advancements, non-stick stir fry pans are increasing in popularity. 
Another popular option is cast iron woks such as Lodge Cast Iron's Wok or enamelled versions like the Chasseur, Le Creuset & Staub woks. There are also stainless steel woks available like this Scanpan model.
The traditional long-handled wok can also feature a helper handle, as well as those with one small 'helper' handle on opposite sides. The long-handled variation is used prominently in dishes and cuisines were tossing the food by flicking the pan is needed to stir the food.
If you need assistance choosing a wok for your kitchen; home or commercial, please let us know and we can help you with your decision!
Viewing 1–12 of 28 results
Ballarini Alba Wok 30cm

$

299.00

Carbon Steel Wok (4 Sizes)

$

27.99 –

$

35.99

Chasseur Cast Iron Wok with Glass Lid 37cm (4 Colours)

$

299.00 –

$

449.00

d.line Carbon Steel Wok (3 Sizes)

$

32.99 –

$

54.99

de Buyer Mineral B Element Wok (3 Sizes)

$

149.99 –

$

219.99

Dexam School of Wok Gift Set

$

89.99

Ken Hom Excellence Carbon Steel Wok 32cm

$

69.99

Ken Hom Excellence Carbon Steel Wok 36cm

$

89.99

Le Creuset Signature Cast Iron Wok with Glass Lid 32cm / 4.8L (2 Colours)

$

720.00

Le Creuset Toughened Non-Stick Stir Fry Pan with Helper Handle 30cm

$

400.00

Le Creuset Toughened Non-Stick Wok 32cm

$

440.00

Lodge Cast Iron Mini Wok 23cm

$

99.00