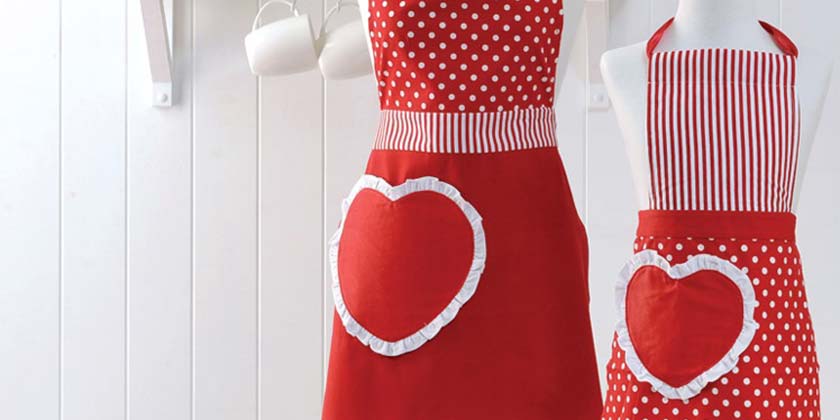 Kitchen Textiles & Table Linen
From A for apron to Z for Zeal silicone oven mitts!
What makes a great chef excellent? A funky apron of course! In our kitchen textiles department we have a wide range of kids aprons and novelty aprons for sale with funny sayings such as …
"My cooking is fabulous I am expecting applause but stunned silence will do."
"Life Is A Cabernet"
"Hand me a wine and watch me get FABULOUS"
"Is it hot in here? Oh, wait it's just me."
Can't find the apron you're looking for? Visit our Taupo kitchen shop to find an even bigger selection! The same is true for our table linen range. While we sell basics online, we have a much greater amount of seasonal table linen in store. Add a splash of colour to your kitchen with tea towels; dress your table on-trend with the latest linen; make your next dinner party memorable with beautiful placemats and reusable napkins.
We also carry a wide selection of highly popular food covers/tents for keeping pesky flies away. What's more, you'll find everything from oven mitts, pot holders to handle covers and gloves for safely taking your delicacies out of the oven and off the stove.
Professional chefs (and those on the way up) browse our extensive range of Chef's Wear where we sell anything from chef's hats and chef's jackets through to kitchen apparel for staff.
With Chef's Complements it's easy to keep covered, clean and safe with a bit of glamour.
Viewing 1–12 of 466 results
Agee Adjustable Apron

$

39.99

Agee Tea Towel Jars with Branding 70 x 50cm

$

12.99

Agee Tea Towel Jars with Labels 70 x 50cm

$

12.99

Allen Designs Crazy Cats Kids Apron

$

39.99

Allen Designs Dog Park Kids Apron

$

39.99

Anneko Tea Towel Bees

$

27.99

Appetito Jumbo Nylon Food Cover 41cm

$

6.99

Appetito Jumbo Nylon Food Cover 61cm

$

13.99

Avanti Food Cover (3 Sizes)

$

6.99 –

$

13.99

Avanti Popup Food Covers 3 Piece Set

$

25.99

Avanti Silicone Butcher Stripe Double Oven Glove

$

39.99

Avanti Silicone Butcher Stripe Single Oven Glove

$

24.99