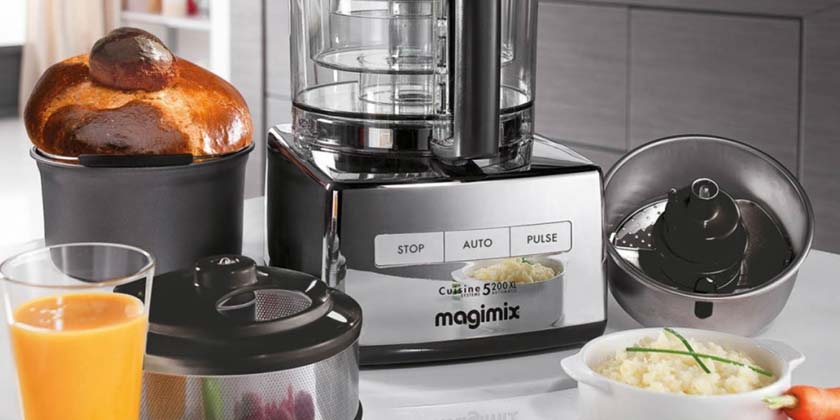 Grate, Slice, Chop, Dice, Blend, Knead, Mix, Emulsify, Grind, Shred, Liquify, Whip, Whisk & Purée…and probably a few more.
Whatever the recipe you're creating, at whatever time of the day, a food processor will help.
Nowadays, food processors can tackle many kitchen tasks in a fraction of the time it would manually, making them a kitchen super tool and your new best friend.
You can find the best food processor to fit your needs within our vast range available online or in-store. If you need help to make your choice of a food processor, please do not hesitate to contact us or drop into our Taupo store, we are always here to help.
We stock the world-renowned USA brands of KitchenAid and Cuisinart as well as the food processor inventor, Magimix. Brands that have been around for decades are brands you can trust!
Viewing 1–12 of 69 results
Cuisinart Cordless Mini Chopper 3 Cup Dark Grey

$

179.00

Cuisinart Elemental 8 Cup Food Processor (2 Colours)

$

310.00

Cuisinart Mini Prep Pro Processor 3 Cup Gun Metal Grey

$

149.00

Cuisinart Mini Prep Pro Processor 3 Cup White

$

149.00

KitchenAid 13 Cup Food Processor KFP1319 Almond Cream

16% OFF


KitchenAid 13 Cup Food Processor KFP1319 Contour Silver

16% OFF


KitchenAid 13 Cup Food Processor KFP1319 Empire Red

16% OFF


KitchenAid 13 Cup Food Processor KFP1319 Onyx Black

16% OFF


KitchenAid 5 Cup Food Chopper & Whisk KFC0516 Almond Cream

16% OFF


KitchenAid 5 Cup Food Chopper & Whisk KFC0516 Contour Silver

16% OFF


KitchenAid 5 Cup Food Chopper & Whisk KFC0516 Empire Red

16% OFF


KitchenAid 5 Cup Food Chopper & Whisk KFC0516 Onyx Black

16% OFF