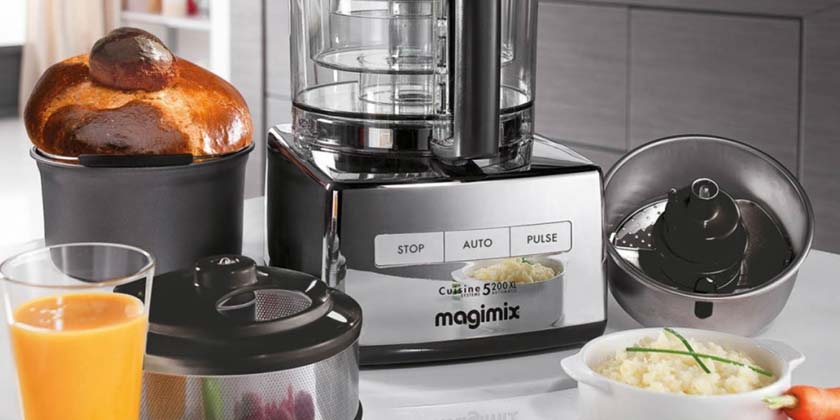 Grate, Slice, Chop, Dice, Blend, Knead, Mix, Emulsify, Grind, Shred, Liquify, Whip, Whisk & Purée…and probably a few more
A food processor summed up is essentially another pair of hands in the kitchen, and those hands belonging to Edward Scissorhands. Food processors can finish a task in a fraction of the time it takes us. Slice & dice vegetables for salads, knead doughs, emulsify sauces & salsas, purée baby food, chop meat, blend soups, whizz up milkshakes, whip cream & whisk egg whites. Whatever the meal you're creating, at whatever time of the day, a food processor can surely help.
That's why it's essential to invest in a food processor that you know will suit the tasks you require. Whether you need a small food chopper that only handles a few cups or a large work bowl like the Magimix 5200XL. If the colour is important to you, KitchenAid have a range of Food Processors in their iconic colours available in a range of sizes to suit. Magimix also have a few different sizes across a select range of colours as do Cuisinart.
Another aspect to take into consideration when deciding between what brand or what model meets your needs is the capabilities and the potential for additional accessories. Magimix offer additional grating & slicing discs as well as attachments such as dough bowls, dicing kits, creative kits, smoothiemix, spiral expert and more. The NEW KitchenAid 13 Cup Food Processors are a complete kit that includes a multi-purpose blade, dough blade, reversible fine and medium shredding disc, a dicing kit and cleaning tools and a storage caddy.
Take your time to familiarise yourself with the options and weigh up what functions or features are important to you. If you need help choosing, please feel free to contact us and we can assist you in making a great choice for your home.
Viewing 1–12 of 67 results
Cuisinart Elemental 8 Cup Food Processor (2 Colours)

$

310.00

Cuisinart Mini Prep Processor 4 Cup White

19% OFF


Cuisinart Mini Prep Processor Gun 4 Cup Metal Grey

19% OFF


KitchenAid 13 Cup Food Processor KFP1319 Almond Cream

$

529.00

KitchenAid 13 Cup Food Processor KFP1319 Contour Silver

$

529.00

KitchenAid 13 Cup Food Processor KFP1319 Empire Red

$

529.00

KitchenAid 13 Cup Food Processor KFP1319 Onyx Black

$

529.00

KitchenAid 5 Cup Food Chopper & Whisk KFC0516 Almond Cream

$

219.00

KitchenAid 5 Cup Food Chopper & Whisk KFC0516 Contour Silver

$

219.00

KitchenAid 5 Cup Food Chopper & Whisk KFC0516 Empire Red

$

219.00

KitchenAid 5 Cup Food Chopper & Whisk KFC0516 Onyx Black

$

219.00

KitchenAid 7 Cup Food Processor KFP0719 Almond Cream

$

299.00