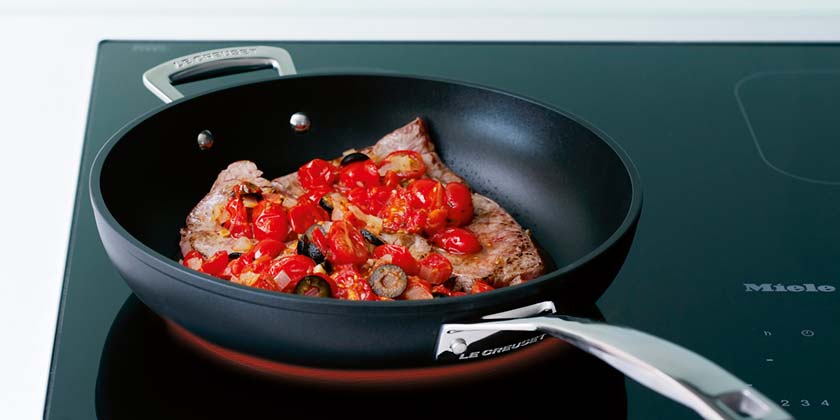 Skillets, Sauté & Frying Pans
Fry, sear, brown, poach, braise and sauté to your heart's content!
Here at Chef's Complements, we have a vast skillet, sauté and frying pan selection at sizzling prices.
Whether you'd like to buy a small skillet to sear the perfect steak, a large frying pan for that Sunday family fry-up or professional sauté pans with lids, we stock every pan you can think of.
From blue steel frying pans and cast iron skillets through to non-stick sauté pans or stainless steel sauteuses it's all right here and in our kitchen store in Taupo.
Viewing 1–12 of 154 results
Avanti Deluxe Mini Fry Pan 14cm (2 Colours)

$

27.99

Ballarini Alba Frypan (4 Sizes)

$

209.00 –

$

299.00

Ballarini Alba Sauté Pan with Lid (2 Sizes)

$

299.00 –

$

369.00

Ballarini Alba Sauté Pan with Lid 28cm

$

339.00

Blacklock Triple Seasoned Cast Iron Skillet 18cm

$

125.00

Blacklock Triple Seasoned Cast Iron Skillet 26cm

$

179.00

Blacklock Triple Seasoned Cast Iron Skillet 30cm

$

239.00

Blacklock Triple Seasoned Cast Iron Skillet 37cm

$

269.00

Blomsterbergs Copper Frypan 20cm

$

229.00

Blomsterbergs Copper Frypan 28cm

$

349.00

CaterChef Aluminium Fry Pan (4 Sizes)

$

34.99 –

$

81.99

CaterChef Professional Non-Stick Aluminium Frypan (6 Sizes)

$

47.99 –

$

129.99