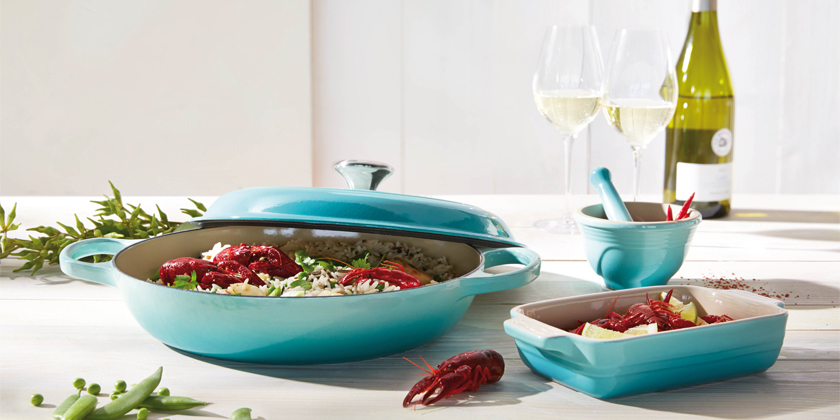 The Chef's pan is a hybrid between a sauté pan and a large skillet, typically with rounded sides and a large handle or two helper handles designed for easy transfer from stovetop to oven. While the Chef's pan was originally designed for professional chefs, it remains a highly regarded tool in many household kitchens. 
Our range of Chef's pans from stainless steel to cast iron will get you cooking anything from eggs to sautés or grilled meats; the choice is all yours. 
Check out our frying pans and skillet guide to learn which is best for you.
Viewing 1–12 of 26 results
Chasseur Cinq Etoiles Non-Stick Chef Pan 30cm

18% OFF


Chasseur Escoffier Chefs Pan 32cm

$

429.99

Essteele Per Vita 26cm Sauteuse

$

309.99

Essteele Per Vita 28cm 5.2L Sauteuse

$

319.99

Essteele Per Vita 30cm 4.5L Covered Risotto

$

309.00

Essteele Per Vita 30cm 4.7L Chef Pan

$

329.99

Essteele Per Vita 30cm 4.7L Multicooker

$

439.99

Le Creuset Professional Hard Anodised Shallow Casserole 28cm / 3.3L

$

419.00

Le Creuset Signature 3Ply Stainless Steel Chefs Pan 20cm

$

399.00

Le Creuset Signature 3Ply Stainless Steel Non-Stick Chefs Pan with Handle 24cm / 3.3L

$

489.00

Le Creuset Signature Cast Iron Casserole Shallow 26cm / 2.2L (10 Colours)

Le Creuset Signature Cast Iron Casserole Shallow 30cm / 3.2L (12 Colours)