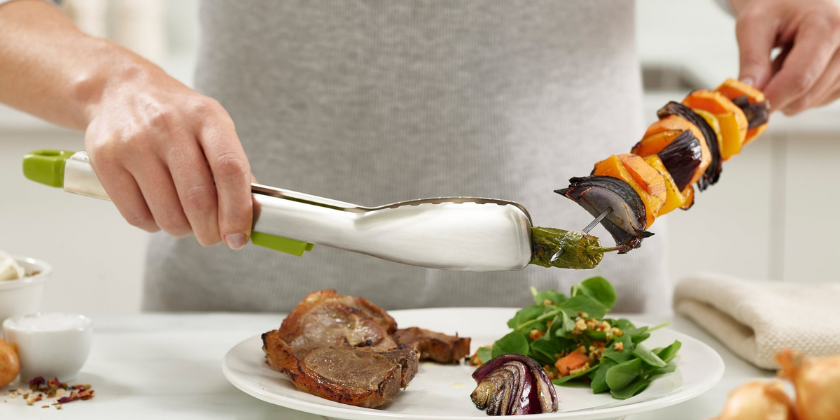 Who knew there could be so many types of tongs right!
Apart from the different materials available, steel, silicone, nylon, wood & bamboo, there are also many different styles of kitchen tongs. There are standard kitchen tongs that are great for all cooking & serving purposes, mini tongs, BBQ tongs, spatula tongs & scissor tongs to name a few.
Apart from the more common styles of tongs, we have a VERY broad range of specialty tongs. These include your breakfast tongs (toast tongs and teabag squeezers) tongs for pastries & cakes, salad tongs, vegetable tongs, spaghetti tongs, deep frying tongs, preserving bottle tongs, ice tongs & condiment tongs. There are also commercial options available such as the colour coded tongs, plating tongs for chefs and burger bagger tongs for fast food establishments.
Viewing 1–12 of 68 results
Agee Kitchen Tongs 25cm (2 Colours)

$

19.99

Appetito Bamboo Toast Tongs

$

5.99

Appetito Mini Nylon Spatula Tongs (2 Colours)

$

4.99

Appetito Mini Stainless Steel Tongs

$

2.99

Appetito Mini Stainless Steel Tongs with Nylon Head (7 Colours)

$

4.50

Appetito Soft Grip Stainless Steel Tongs (2 Sizes)

$

11.99 –

$

16.99

Appetito Stainless Steel Spatula Tongs Black 23cm

$

8.50

Appetito Stainless Steel Tongs with Flat Tip

$

5.50

Appetito Stainless Steel Tongs with Nylon Head (3 Colours)

$

10.99

Appetito Stainless Steel Tongs with Nylon Head Black 30cm

$

12.99

Athena Condiment Tong 100mm

$

9.50

Avanti Bamboo Toast Tongs

$

5.99