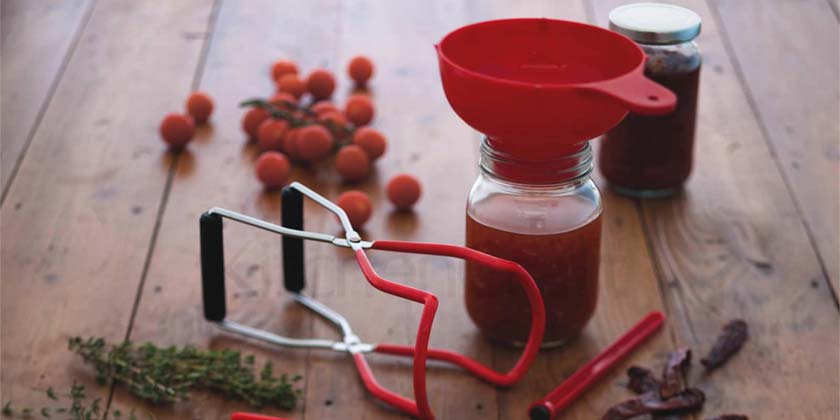 Preserving & Fermenting Equipment
Whether you are making sauerkraut, need a cheese cloth or weck jars for jam making – our preserving section has everything you need.
We have a wide selection of fermenting and preserving equipment. Whether you are making the latest but age-old kitchen trend: sauerkraut, kimchi or other fermented vegetables or whether you want to make your own preserves, jams and cheeses – we have everything you need, from fermenting tools and preserving jars through to starter cultures.
Consuming probiotics and fermented foods have a myriad of health benefits. One of the most important is a healthier gut. Nutrients, vitamins and minerals are absorbed better, which in turn means a happier tummy and happier body overall.
If you're not a fan of making sauerkraut, there are many other ways to get those good probiotics from your diet, for example by making your own delicious fermented drinks such as kefir or kombucha.
Get your preserving and fermenting equipment at Chef's Complements and see what difference the change of diet will make in your life!
Viewing 1–12 of 152 results
AcuRite Digital Waterproof Thermometer

$

44.99

Agee Jam Jar & Preserve Covers

$

8.99

Agee Preserving Essential Set 5 Piece

$

36.99

Agee Queen Jar (4 Sizes)

$

8.99 –

$

34.99

Agee Regular Preserving Jar Bands 12 Piece

$

19.99

Agee Regular Preserving Jar Seals 12 Piece

$

12.50

Agee Simmer Mat Octagonal 20cm

$

29.99

Agee Special Preserving Jars (3 Sizes)

$

6.99 –

$

10.99

Agee Stainless Steel Preserving Pan 6L

$

149.99

Agee Wide Mouth Preserving Jar Bands 12 Piece

$

24.99

Agee Wide Mouth Preserving Jar Seals 12 Piece

$

16.99