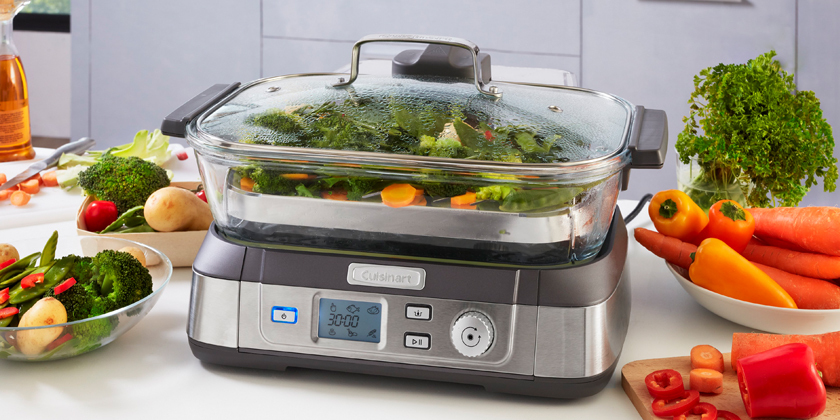 Savour the Good Life
With over 40 years of experience, Cuisinart has established itself to be one of the most trusted premium brands in the kitchen.
Branching from the success of the Food Processor range, Cuisinart has expanded its product offering across many different appliance categories that include countertop cooking, blenders, juicers, tea and coffee, toasters and the ever-popular dessert category, featuring Cuisinarts famous Ice Cream Makers. New to the range is the Rice & Grains Cooker.
People with an interest in good cooking are looking for more than just a product purchase. They want cooking tips and techniques that turn products into culinary tools. All Cuisinart products include comprehensive Instruction and Recipe books to enhance the consumer's enjoyment of food preparation.
Backed by great guarantees, Cuisinart is a wise choice. Plugged or unplugged, nobody covers the kitchen like Cuisinart.
Viewing 1–12 of 30 results
Cuisinart 4 Slice Stainless Steel Toaster

$

239.00

Cuisinart 4 Slice Waffle Maker WAF-150A

$

189.00

Cuisinart Combo Steam & Convection Oven Brushed Stainless

$

459.00

Cuisinart Compact Juice Extractor

$

309.00

Cuisinart Cook Central 3-in-1 Multicooker 5.7L

$

359.00

Cuisinart Cook Fresh Digital Glass Steamer

$

399.00

Cuisinart Cool Scoops Ice Cream Maker

$

169.00

Cuisinart Cool Scoops Plus Frozen Dessert Maker 2L

9% OFF


Cuisinart Cordless Hand Blender Dark Grey

$

179.00

Cuisinart Cordless Hand Mixer Dark Grey

$

179.00

Cuisinart Cordless Mini Chopper 3 Cup Dark Grey

$

179.00

Cuisinart Cordless Personal Blender Dark Grey

$

179.00