Kitchenware Store Taupo
Introducing Chef's Complements kitchen shop, open 7 days a week.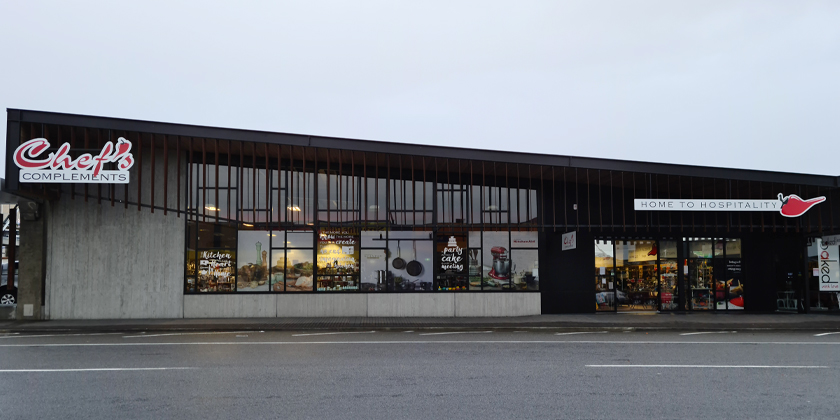 Chef's Complements is the foodie's paradise in Gascoigne Street, also known as the most-asked-for Taupo kitchenware store at the town's information centre. Our 2017 re-location saw our kitchen shop grow into a whopping 750sqm of tantalising displays, complete with an in-store demonstration kitchen, 8 metres of knife cabinets and inspiring kitchen supplies in every corner.
"This [shop] would sit well in downtown New York"
Chef's Complements Kitchenware Store is proudly locally owned and operated by Vicki and Andy and started out catering to the region's growing hospitality scene. Since 2004 we have expanded to offer kitchen supplies to foodies in the general public and domestic chefs who need a helping hand.
Chef's Complements is armed with kitchen supplies and implements for every kitchen task imaginable, suitable for gadget-lovers or as a gift for the hard-to-buy-for chef. This leading kitchenware store in Taupo has its own imported commercial kitchenware ranges. If your business includes food preparation or beverage service, then Chef's Complements is there to help. From cutlery, tableware, buffetware, bar and counter service to kitchenware and cookware, all kitchen supplies are available to the industry at trade prices. Chef's Complements kitchen shop caters to the needs of restaurants, cafés, bakeries, takeaways, maraes, schools, retirement homes and sporting and training institutions.
"There's a kaleidoscope of colour and eye-catching displays at every angle of the shop."
With a wide selection of kitchen supply products and price ranges, our kitchenware store certainly provides something for every budget. We carry the best brands alongside great-value kitchen supplies in order to cater for everyone. This includes NZ's largest range of KitchenAid and Le Creuset alongside sought-after Trenton International products.
Most importantly, we are a team of long-serving members who are truly passionate about our job and always here to offer advice and help you choose the best products for your endeavours.
If you haven't yet, do pop in and see us.
---
Our Recipe For Success