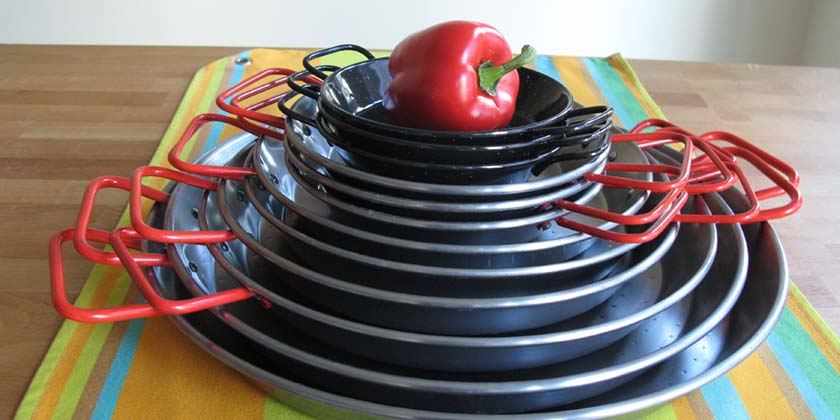 What better way to cook up this Spanish dish of rice, saffron, chicken, and seafood right in your kitchen than with a traditional Paella pan?
A paella pan is a deep, wide and round dish with slightly sloping sides, allowing the rice to cook evenly without burning or sticking to the bottom. Wide and shallow, ideally the pan has enough space to cook the dish in one layer. Paella experts recommend using a pan that heats quickly and doesn't retain too much heat.
We stock the Garcima Paella Pan and burner set along with many other top brand like Le Creuset and Pujadas.
Viewing all 9 results
Garcima Andreu Paella Gas Burner 2 Piece Set

$

399.00

Garcima Deep Enamelled Paella Pan (5 Sizes)

$

19.99 –

$

42.99

Garcima Induction Paella Pan (2 Sizes)

$

64.99 –

$

84.99

Garcima Tapas Dish 15cm

$

21.99

Le Creuset Paella Pan Cerise 34cm

$

679.00

Pujadas Enamel Deep Paella Pan with Handles

$

15.99 –

$

16.99

Pyrolux Industry Paella Pan (3 Sizes)

$

74.99 –

$

119.99

Scanpan Maitre D' Cast Iron Mini Paella Pan 16cm

$

54.99

Traditional Polished Steel Paella Pan (12 Sizes)

$

22.99 –

$

399.99