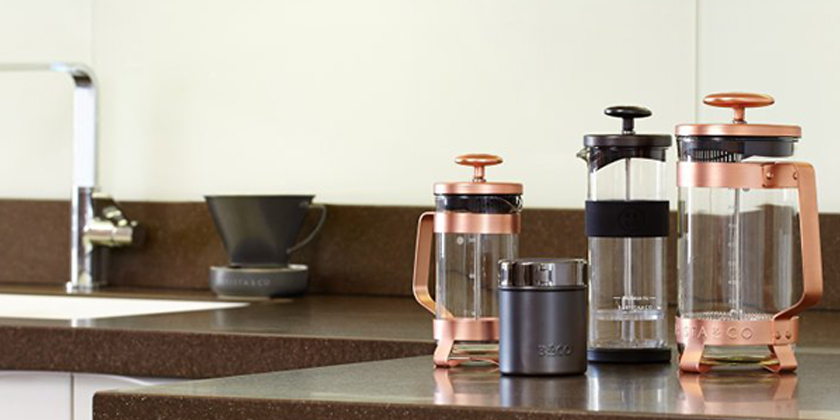 Buy teapots, milk frothers, coffee plungers and other accessories for a barista-style caffeine fix.
Coffee aficionados, baristas and café owners all choose Chef's Complements to buy tea and coffee equipment at great prices. From your classic teapot and coffee plunger through to the milk frother for cappuccino lovers, we have all the tools you need, whether you're entertaining at home or in the hospitality sector. We are proud to stock top brands such as Bialetti, Bodum, Avanti, Bevande, Le Creuset and Rockingham.
Find induction capable stovetop espresso makers & best-selling Bialetti stovetop espresso makers
Enjoy your cup of tea in style with Zero Japan teapots, teapot trivets and tea infusers in all sizes (including Teaology infusers)
Follow the latest trend and buy a beautiful cast iron teapot to keep your tea warmer for longer
Replace your run-off-the-mill kettle with a beautiful Le Creuset enamelled kettle
Keep the heat with lovely double-walled plungers and glasses
Pick up a thermal mug for your favourite caffeine fix on the go
Professional Tea and Coffee Service
Chef's Complements is the go-to kitchen shop for trade customers. We, for example, carry milk frother jugs, coffee thermometers to get the milk at the precise temperature, coffee stencils for latte art and the Bevande range of traditional Italian coffee cup shapes to suit all beverage needs. Between our tea and coffee section and dedicated hospitality department your café's, bar's and restaurant's needs are covered.
Viewing 1–12 of 577 results
24Bottles Clima Travel Mug 350ml Deep Blue

$

54.99

24Bottles Clima Travel Mug 350ml Sequoia Wood

$

54.99

24Bottles Clima Travel Mug 600ml Deep Blue

$

69.99

24Bottles Clima Travel Mug Lush 350ml

$

54.99

24Bottles Clima Travel Mug Marakesh 350ml

$

54.99

24Bottles Clima Travel Mug Tivoli 350ml

$

54.99

24Bottles Clima Travel Mug Virtue 350ml

$

54.99

24Bottles Infuser Bottle 500ml Philosophy

$

64.99

Aerolatte 'To Go' Milk Frother with Case Black

$

26.99

Aerolatte 'To Go' Milk Frother with Case White

$

26.99

Aerolatte Cappuccino Art Pack Stencils

$

11.99

Aerolatte Mooo Milk Frother

$

26.99