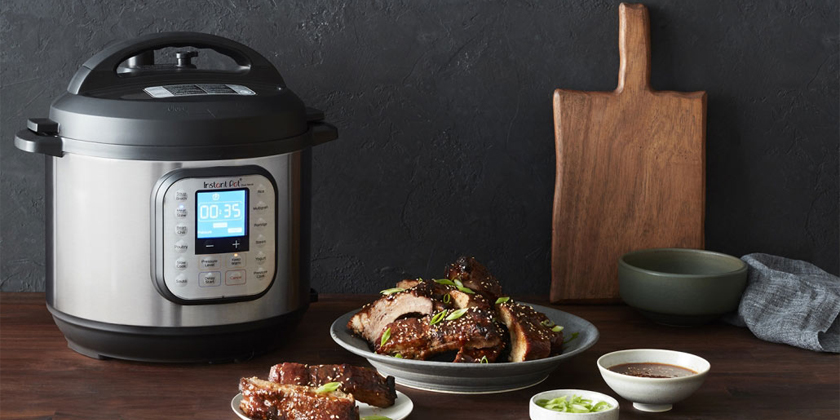 Pressure Cookers, Slow Cookers & Multi Cookers
Forget hiring a personal chef – get a crock pot instead!
Do you like the idea of a night off cooking? Do you want to have dinner ready when you come home? Does your mouth water at the mention of hearty stews and juicy, fall-off-the-bone meat? Then you definitely need a slow cooker or crock pot. With a lengthy hands-off cooking time, a slow cooker allows you to get the kids sorted, to get work done or simply to relax while your food is slowly cooking away. The best thing is: crock pots aren't just great for warm winter meals. In summer you can use them to make preserves and jams, so they offer convenience year-round.
Another must-have item in the range of convenient small kitchen appliances is a pressure cooker. This great gadget makes fast food healthy.
Slow cooker vs pressure cooker – what's the difference?
A slow cooker cooks food inside its ceramic crock which sits over a very gentle element. With a slow cooker, you can cook your food for up to 10 hours. Add your ingredients in the morning, then leave the crock pot to cook your meal, ready for dinnertime. A pressure cooker, on the other hand, mimics the action of slow cooking in a high-pressure steam environment, but your meal is ready within an hour.
How to choose a slow cooker
Size. If you usually cook a meal at a time for 1 to 4 adults or if you have limited storage, then a small 3- to 4-litre crock pot is best for you. If you cook for a larger family or want to take advantage of leftovers, choose a slow cooker that holds at least 5 litres.
Shape. Round slow cookers are great for stews etc., while oval crock pots can hold a whole chicken or large roast.
Features. Would you like a high-heat setting so you can sear or brown meat before adding other ingredients? Would you like steam, simmer or sauté settings?
Programmability. The Cuisinart multi-cooker, for example, has a 24-hour timer which turns off when your cooking is finished.
Lid type. The KitchenAid brand, for example, offers easy quick access with a double-hinged lid without having to take the lid off and letting steam out.
Guarantee. What guarantee does the product offer?
Viewing 1–12 of 14 results
Birko Rice Cooker 6L

$

793.00

Cuisinart Cook Central 3-in-1 Multicooker 5.7L

$

359.00

Cuisinart Pressure Cooker Plus

$

259.00

Cuisinart Programmable Slow Cooker 6L

$

339.00

Cuisinart Super Grains & Rice Multi Cooker

$

249.00

Instant Pot Duo 7-in-1 Multi-Cooker 5.7L

$

229.00

Instant Pot Duo 7-in-1 Multi-Cooker 8.0L

$

289.99

Instant Pot Duo Crisp + Air Fryer 7.6L

$

429.99

Instant Pot Duo Nova 7-in-1 Multi-Cooker 3.0L

16% OFF


Instant Pot Duo Nova 7-in-1 Multi-Cooker 5.7L

16% OFF


Instant Pot Duo Nova 7-in-1 Multi-Cooker 8L

16% OFF


Instant Pot Tempered Glass Lid 3L

$

19.99