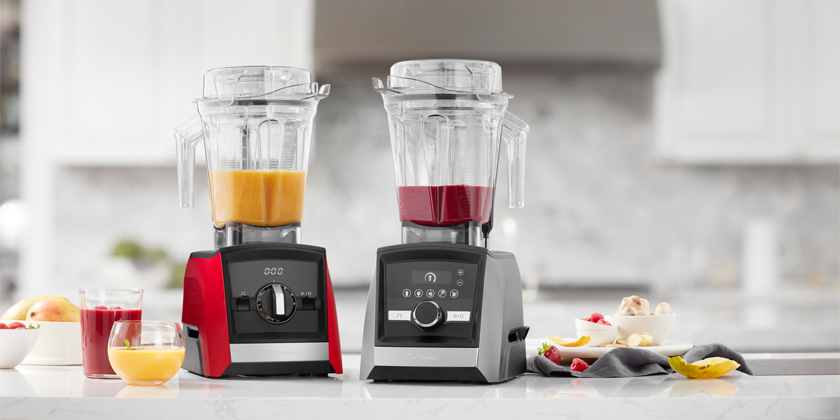 Transform healthy ingredients into delicious meals.
Vitamix produces the original, true high-performance blender, designed to stand the test of time. With long-lasting quality and technology that redefines what a blender can do, these are no ordinary blenders. As a family-owned, fourth-generation company, Vitamix has been devoted to developing the world's most dependable blender for nearly a century and is adored by generations of proud owners around the world. It is the most trusted blender by chefs and major chain restaurants around the globe. From nuts to butter, wheat to flour, soup without a stove or sorbet without a freezer, Vitamix can make many different textured foods with precise controls creating precise results. From smooth purées to chunky salsas and everything in-between.
Every Course, Every Meal, Every Day.
Vitamix, more than a blender.
100 Year Anniversary Collection
To commemorate a century in business, Vitamix has released an anniversary collection that features all the accessories you could ever need, plus the powerful and top-of-the-line A3500i Ascent blender in a beautiful Black Stainless finish. Valued at $1844 separately at Chef's Complements, a saving of $149!
Viewing 1–12 of 30 results
Vitamix Ascent Blending Cups & Bowl Starter Kit

$

199.00

Vitamix Ascent Low Profile Container with Self-Detect 2.0L

$

229.99

Vitamix Ascent Self-Detect Blending Bowls 225ml Set of 2

$

49.99

Vitamix Ascent Self-Detect Blending Cup 600ml

$

49.99

Vitamix Ascent Series A2300i Blender Black

$

995.00

Vitamix Ascent Series A2300i Blender Red

$

995.00

Vitamix Ascent Series A2300i Blender Slate

$

995.00

Vitamix Ascent Series A2300i Blender White

$

995.00

Vitamix Ascent Series A2500i Blender Slate

$

1,295.00

Vitamix Ascent Series A2500i Blender White

$

1,295.00

Vitamix Ascent Series A2500i Blender Black

$

1,295.00

Vitamix Ascent Series A2500i Blender Red

$

1,295.00