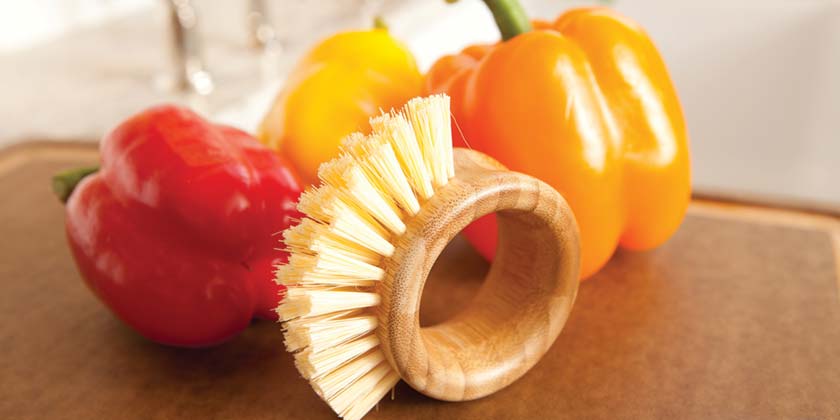 Cleaning Supplies & Housekeeping Tools
Buying housekeeping tools doesn't need to be a chore!
Find everything from mop and bucket through to wheelie, compost and rubbish bins under one roof.
Chef's Complements come to the aid when messy chefs have to tackle kitchen chores. We have a range of cleaning supplies and housekeeping tools that help you get the boring stuff done in no time. Grab a mop, bucket, brushware and non-toxic cleaners and your kitchen will be sparkling in no time, ready for you to get cooking again. We stock …
Cleaning caddies for keeping cleaners, cloths, sponges etc. orderly & at hand
Rubbish bins of all sizes from benchtop to wheelie bins
Dishracks, mats & sink accessories
Essential brushware supplies for cleaning
Non-toxic cleaning supplies for pots, pans & kitchen surfaces
Compost bins for kitchen waste
Let's face it: housekeeping isn't very exciting, but it has been said that if you wear one of our funky novelty aprons, cleaning up the mess already feels a little better!
Natural Cleaning Supplies
Here at Chef's Complements we stock a range of natural cleaning products such as Parker & Bailey, non-abrasive and safe to use on all surfaces, and a Natural Cleaning Set to help you make your own cleaners with ingredients you find at the grocery store!
Reasons to use natural cleaning products include:
Chemicals in upwards of 70% of home cleaning products may be unregulated
Many chemicals are toxic
Keep kids safer by reducing risk of accidental poisoning
Toxic cleaners can poison the water supply and impact on wildlife/the environment
Cleaning sprays can linger in the air long after the mist dissipates, polluting the air in your home/workplace
Viewing 1–12 of 456 results
All Purpose Sponge 3 Pack

$

3.99

Anneko Dish Cloth (3 Designs)

$

7.99

Anneko Dish Cloth 2 Pack Herb

$

17.99

Appetito Compost Bin 4.5L Green

$

69.99

Appetito Compost Bin 4.5L White

$

69.99

Appetito Compost Bin Replacement Charcoal Filter Set of 2

$

7.99

Appetito Double-Sided Draining Board

$

19.99

Appetito Large Bottle Brush All-Purpose

$

14.99

Appetito Microwave/Multi Mat 30cm

$

17.99

Appetito Small Bottle Brush All-Purpose

$

13.99

Appetito Spout Bottle Brush

$

13.99

Appetito Stainless Steel Deluxe Sink/Bath Plug 7.5cm

$

3.99