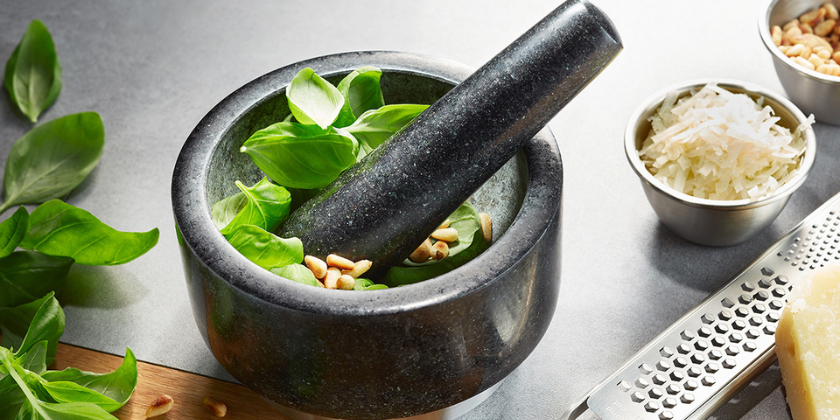 Mortar and Pestles are said to be own of the oldest kitchen utensils with origins dating back roughly 10,000 years! With an array of mortar and pestles available to buy today, it's easy to tell that these are a timeless addition to have in any kitchen.
Easily grind dried or fresh herbs, spices, seeds. Use it to make your own fresh food rubs, pastes, spice blends and seasonings to add flavour to meats, vegetables or your favourite dishes. Even make your own marinades and salad dressings. A mortar and pestle allows the release of natural flavours and aromatics of your fresh ingredients, so you're not sacrificing the quality or taste of your food. Use it to grind other foods such as nuts and avocados for guacamole and more.
These are excellent gift ideas for newlyweds, as a housewarming gift, or for any serious cook in your family.
Viewing 1–12 of 16 results
Avanti Black Granite Low Profile Mortar & Pestle 20cm

$

64.99

Avanti Black Granite Mini Conical Mortar & Pestle 13cm

$

49.99

Avanti Black Granite Mortar & Pestle 13cm

$

64.99

Avanti Black Marble Footed Mortar & Pestle 13cm

$

54.99

Avanti Black Speckled Granite Mini Mortar & Pestle 9.5cm

$

34.99

Avanti Black Speckled Granite Mortar & Pestle 18cm

$

67.99

Avanti Rough Granite Mortar & Pestle 17cm

$

67.99

Avanti Rough Granite Mortar & Pestle 20cm

$

79.99

Avanti White Marble Footed Mortar & Pestle 13cm

$

54.99

Cole & Mason Granite 14cm Mortar & Pestle

$

79.99

Cole & Mason Suribachi Mortar & Pestle

$

89.99

GEFU Crunchy Granite Mortar 10cm

$

59.99