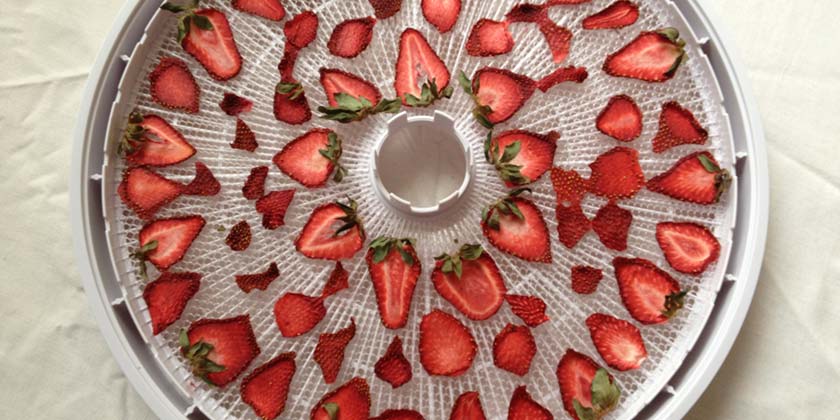 Create delicious and nutritious snacks with our range of Food Dehydrators
Dried fruit, roll-ups, sweet and savoury snacks, muesli and health bars, corn and potato chips are just the start of what you can create. At Chef's Complements, we stock the popular Ezidri Food Dehydrators including the FD500 Snackmaker and the FD1000 Digital Dehydrator. Each of these Ezidri models have optional accessories in the form of extra spacer rings, solid & mesh sheets and trays.
There's also the versatile Instant Pot Duo Crisp + Air Fryer which has so many features, one being a dehydrator. The pressure cooker lid offers 6 wet cooking functions, pressure cook, sauté, steam, slow cook, sous vide and warm while the Air Fryer lid offers 5 crisp cooking functions, air fry, roast, bake, broil and dehydrate. Another appliance from Instant Brands is the Instant Vortex Plus Air Fryer that can also roast, broil, bake, reheat and dehydrate.
Lastly, there is also a quality dehydrator from Cuisinart. From dried meats like beef jerky or biltong to dried fruits such as dried strawberries, dried bananas and dried apricots. Even try making your own dehydrated raw crackers, seaweed sticks and corn chips. This five-layer stackable and interlocking racks are suitable for dehydrating an array of foods from fruits, vegetables, meats, herbs and even flowers.
Whatever dehydrator suits the task you have at hand, you can trust our range available at Chef's Complements.
Viewing 1–12 of 15 results
Cuisinart Food Dehydrator

$

199.00

EZIDRI FD500 Mesh Sheet

$

6.50

EZIDRI FD500 Snackmaker Food Dehydrator

$

229.00

EZIDRI FD500 Solid Sheet

$

7.99

EZIDRI FD500 Spacer Ring

$

30.00

EZIDRI FD500 Tray Set of 2

$

30.00

EZIDRI Ultra FD1000 Food Digital Dehydrator

$

369.00

EZIDRI Ultra FD1000 Mesh Sheet

$

6.50

EZIDRI Ultra FD1000 Solid Sheet

$

7.00

EZIDRI Ultra FD1000 Spacer Ring

$

20.00

Ezidri Ultra FD1000 Tray

$

20.00

Instant Pot Duo Crisp + Air Fryer 7.6L

$

429.99