Sale!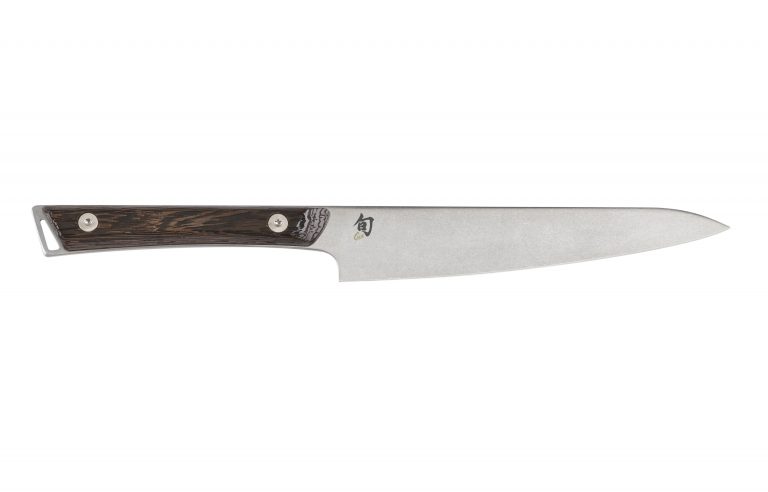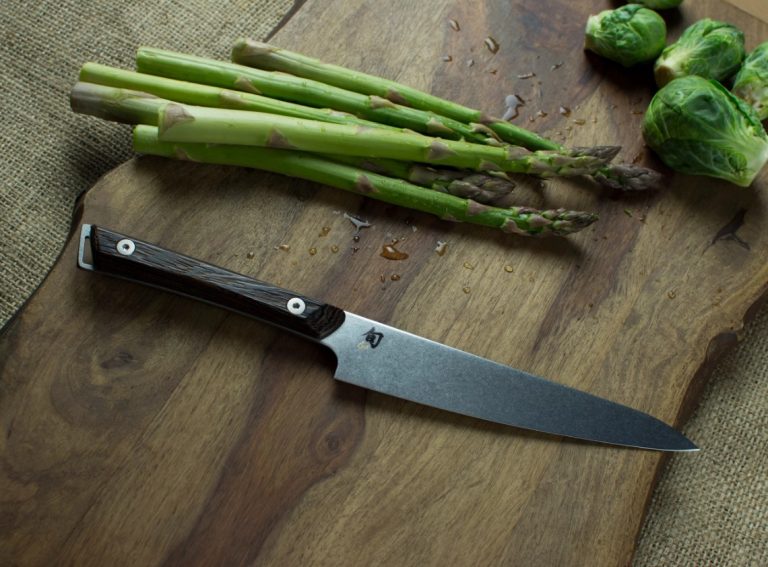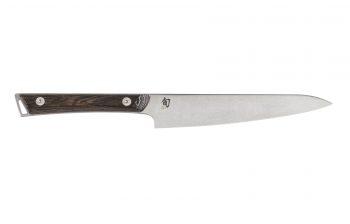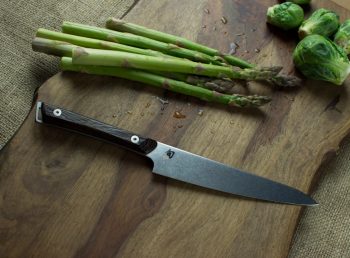 Kai Shun Kanso Utility Knife 15cm
Perfect for small tasks where more precise cuts are needed.
Secured Payment
|
Free shipping over $100 (excludes bulky products)
View On Mobile Open your camera and Scan the QR code to view on your mobile.
The Kai Shun Kanso 15cm Utility Knife is a multi-purpose knife that is between a paring and chefs knife with a narrower and straighter blade. The Kanso Utility Knife is perfect for a multitude of small tasks where more precise cuts are needed, such as trimming broccoli, green beans, or other smaller vegetables. Some cooks like to use it in their hand, too—almost like a large paring knife or petty knife. Others like its smaller size as an alternative to the chef's knife. Its very slightly curved belly enables it to do moderate rocking cuts. It's nimble enough to peel an onion in hand, then slice it up in short order. Utility knives are sometimes called sandwich knives because they work well on almost everything that goes into a sandwich—from thin-skinned vegetables such as tomatoes to meats and cheeses.
If you have admired the simple lines and effortless grace of Japanese design, you have experienced Kanso. Kanso is a design principle based on Zen philosophy. It means "simplicity", but simplicity that is achieved by eliminating the non-essential. To create Shun Kanso, Kai Shun has taken away anything that doesn't matter and kept everything that does; high-performance steel, razor-sharp edge, with full tang construction providing the perfect balance and precision cutting control. The steel is Japanese AUS10A—highly refined, high-carbon, vanadium stainless steel that takes a razor-sharp edge and holds it longer. Kanso's Heritage finish hides scratches and gives Kanso a rustic look that just improves with age. The handle is made of tagayasan wood, sometimes known as "iron sword wood." The handle contouring enables an easy chef's grip. Full-tang construction provides strength, balance, and easy cutting control. Like all Shun knives, Kanso is sharpened to a 16° cutting angle each side to cut cleanly and help preserve food's freshness and best taste. Kanso is a simple and beautiful kitchen knife with a rustic, heritage finish that performs every time.
Blade Material: Japanese AUS10A blade steel – highly refined, high-carbon, vanadium stainless steel that takes a razor-sharp edge and holds it longer.
Cutting Angle: Double bevelled 16° cutting angle each side
Blade Finish: Heritage-finish blade provides a rustic look that hides scratches and improves with age with a patina
Handle Material: Contoured tagayasan wood handle – known as "iron sword wood", tagayasan is dense, durable and beautiful
Blade length: 15cm
Handcrafted in Japan
NSF certified for use in commercial kitchens. Shun knives are provided with a limited warranty from manufacturing defects.

All Shun Kanso Knives are presented in an attractive gift box.
Read through our Shun Blog to find out more information about this top-end brand and the differences between their ranges. See all Chef's Complements Shun Knives here.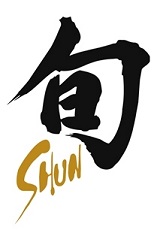 Only logged in customers who have purchased this product may write a review.