NEW DESIGN available in fashionable and iconic KitchenAid colours
Discover a world of new tastes and healthy possibilities with the perfect ice-crushing blender for your best tasting smoothie. The K150 blender features an optimally designed ice crush setting, or choose any one of the 3-speed options for your perfect blend no matter the ingredients.
One variable, 3 speed dial, including an optimally-designed ice crushing pre-set recipe program, pulse-function, and self-cleaning cycle
Achieve ideal taste, texture and consistency with the ability to crush ice in less than 10 seconds (half a tray of ice). Ice crush/pulse setting and 3 different speeds for your perfect blend no matter the ingredients
Expertly crafted 3 part blending system 0.9 peak HP motor (with intelli-speed), unique asymmetric blade and ribbed jar
These 3 parts work together in harmony to easily crush ice with a powerful blending vortex
Adaptive Motor & intelli-speed motor control
Senses contents and maintains the optimal speed to power through all ingredients
Unique asymmetric stainless steel blade, sharpened & precisely angled
Blends at 4 distinct angles to pull ingredients into the centre to power through the toughest ingredients
1.4L Ribbed BPA-Free Plastic Jar
Folds contents back onto the blades to create a powerful blending vortex to easily tackle tough ingredients
Stable Plastic Base
Sturdy, stable, durable and easy to clean
Designed, engineered & assembled in the U.S.
Features:
Blend your best tasting smoothie with the perfect ice crushing blender
Sleek design and die-cast metal knob that's built to last
Includes:
1.4L graded BPA-free plastic jar
Vented solid-seal lid with removable ingredient measuring cap (up to 60ml)
Asymmetric stainless steel blade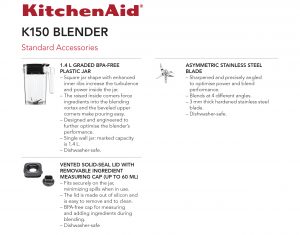 Dimensions:
Height: 37.6cm
Width: 18.03cm
Depth: 21.59cm
Cord Length: 91cm (cord can be wrapped underneath the base)
Specifications:
Wattage: 650W
Power rating: 0.9 Peak HP motor
Voltage: 220-240V
Frequency: Low Speed: 4000 – Medium Speed: 7800 – High Speed: 11500 – Pulse: 6000
Speeds: 3 variable speeds, pre-set recipe program 'ice crush', pulse & cleaning cycle
Pitcher capacity: 1.4L
Weight: 3.17kg