Make juices, smoothies, plant-based milks and freshly squeezed citrus juices with ease. Using cold press technology the Juice Expert 3 has shown to retain more vitamins and minerals alongside extracting higher yield with lower oxidation. The Magimix Juice Expert 3 is the ultimate juicer taking up little worktop space but containing a powerful and versatile machine.
Extract the best from raw or cooked fruits and vegetables! To combine health and daily pleasure, the Juice Expert Magimix combines the best of nature with the best of technology. With its various exclusive patented technologies, the Juice Expert 3 cold extracts all the benefits of fruits and vegetables. The Juice Expert extracts up to + 70%* more juice than a competing juice extractor. Performance measurements of a carrot juice after EXTRACTION and FILTRATION for 500g of carrots. Tests carried out with Juice Expert 3 (Juice filter function)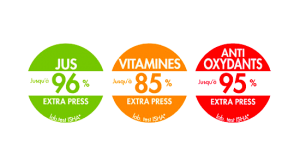 Juice Expert 3 extracts up to 96% juice yield (4 kg of hulled strawberries), up to 85% vitamin yield (Green Juice: mango, apple, carrot, kale, celery) and up to 95% yield in antioxidants (Strawberry coulis)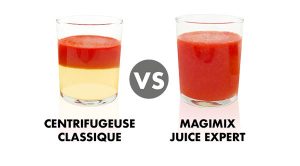 Better hold for juices made with Juice Expert. Photo of tomato juice (330g of tomatoes) taken after 30 minutes after EXTRACTION. Tests carried out with Juice Expert 3 (Extra Press function) and a centrifuge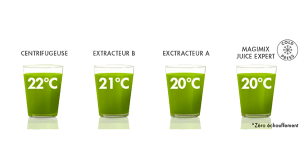 Zero warm-up! Measurements of the temperature of a green juice after EXTRACTION (Green Juice: mango, apple, carrot, kale, celery). Tests carried out with Juice Expert 3 (Extra Press function)
Cold Extraction Juice Filter
Preservation of vitamins when extracting pure & clear juices from hard fruits and vegetables. Ideal for juicing greens such as spinach & cabbage as well as hard-fleshed fruit and vegetables like apple, carrots & fennel.
Citrus Juicer / Pulp System
Ideal for juicing oranges, lemons, grapefruit and other citrus fruits. With or without pulp. Includes 2 cones for large or small citrus fruits.
Extra Press
Exclusive to Magimix, the patented Extra Press turns your appliance into a cold press juicer. Ideal for juicing soft or cooked fruit & vegetables (eg. raspberries, strawberries, tomatoes & bananas) and for making plant-based milks (eg. almonds & cashew). This results in a thicker, fibre-rich juice with an exceptional yield: + anti-oxidants, + vitamins + juice.
Professional Motor – The Juice Expert is equipped with a professional motor that is powerful, reliable, energy-efficient and ultra-quiet. Motor guaranteed for 30 years.
Over 100 Recipes – Includes a book of more than 100 recipes, developed in partnership with a nutritionist, to try an infinity of juices, smoothies, plant-based milk, coulis, sauces & more. You can also find all the recipes on the free Magimix app.
Additional Features:
All removable parts are dishwasher safe
Juice extractor made in France, Sabatier discs made in Thiers
Do you know how to create a balanced juice?
When we talk about juice extractor, fresh juice or even morning juice, we think of fruits. Orange and grapefruit are still the stars of breakfast. However, citrus juice is a juice made up of a lot of sugar. To find the balance of a good juice, it is important to introduce vegetables. We advise you to start with 50% vegetables and 50% fruit. For the more seasoned, you can make 70% vegetables and 30% fruit.